Adventures in Philly, Wedding Crashing in Richmond. October 5-12, 2015.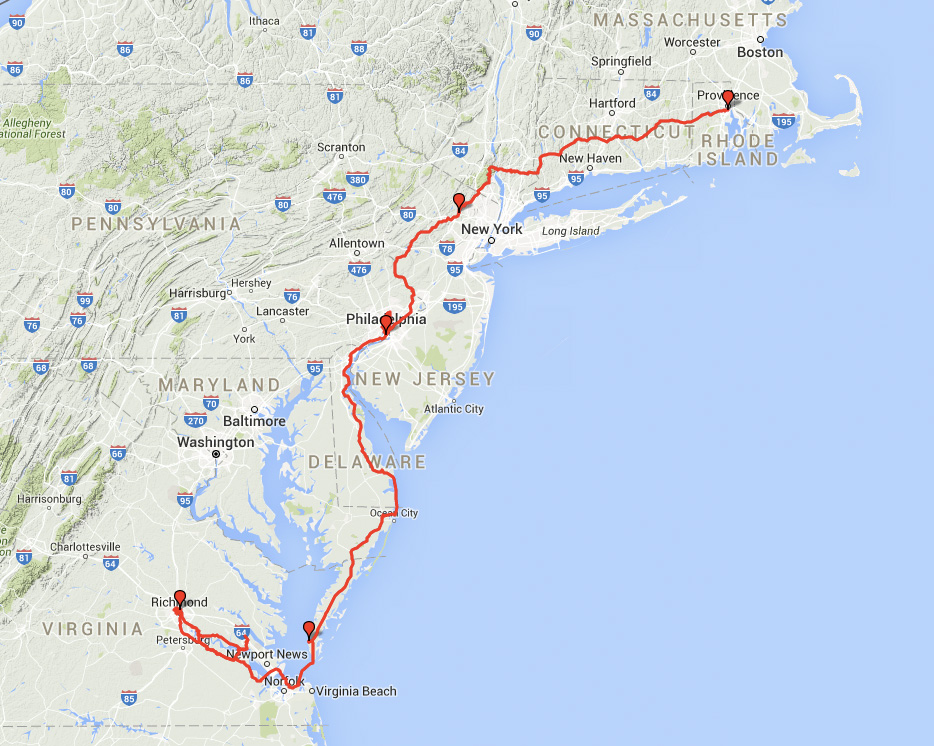 I've sliced Connecticut east-west so many times, I already had a clear favorite route in mind: pass by the Scituate Reservoir, route 14 into CT, smaller roads (Machine Shop Hill Rd) aiming for CT-16. Once west of Hartford staying quite far south, I could decide how to proceed. It's my favorite for peaceful wooded roads, but also because friends live right at the intersection in Windham!

Over steamed cheeseburgers, I chatted up another patron who actually recommended taking I-84 west. Interstate travel isn't my usual approach, but a bit further west the placement of the interstate blasted through several layers of rock, revealing cool diagonal striations on both sides of the road as you motor along. Bonus, I spotted a patch of green on the map and veered south after Danbury, CT for a gentle climb up to Bear Mountain State Park in New York state.
Slipping back into the saddle was like exhaling after holding my breath, when it had been so long I forgot I'd been holding it in the first place.

Oddly enough, I think my bike feels better fully packed. Maybe that's just what I'm most used to, and the way the bike's broken in now. It's so comfortable around tiny roads, the kind without painted lines, where I can feel the forest up close. I was glad I caught some of the first leaves changing colors in Connecticut, autumn is glorious in New England. I remembered there were parts of New Jersey that was horse country, instead of the industrial marsh outside of New York City. It was lovely to follow the curves of the Delaware River. The metal grated Frenchtown bridge didn't even phase me.
I also love that when I'm tired of poking around I can take I-84, and the land opens up in turn with the throttle. Entire hillsides reveal their colors at once, brilliant swatches of reds and oranges, and city skylines rise like slate in the distance. Providence to Philly is practically an old affair now, but I still find new things.
It's good to be back on the road.
The first overnight was comfortable and low key at what I now dub the Rhodeside Ranch, in Montville, NJ: Jon Rhodes' quiet home and scooter stash. Fred made a guest appearance (yay!) en route to the Hershey Fall Meet and Not Summit Point 24, the latter of which both he and Rhodes would be attending but I would miss for Davide's wedding. Nevertheless, we admired his living room Heinkel Tourist (just like in I See By My Outfit!) and the local pub was attended.
The next day, I managed to make what would normally be a 2-3 hour drive into a nearly 5 hour scenic ride. On purpose, because it was beautiful.
I arrived at the Philly home of scooterists Rich and Melissa just in time to drag them along for Anna Grechishkina's presentation.

I've been asked whether I want to ride more internationally, and the answer is a resounding yes. In the back of my mind, North America was always something of a testing ground. It seems ridiculous now that I wanted to make sure that I liked this sort of thing, but at the time I needed the confidence that I could still work from the road without the additional tasks of handling visas, language barriers, importing vehicles, and currency exchange. It's a 34,488 mile baby step.
What stuck with me from Anna's presentation wasn't just the logistics of overland travel (there are plenty of resources now), but the insight to break down the reasons to go. Asking yourself honestly what drives you to travel so extensively – especially solo, on what others may deem an improbable machine – and hearing someone else say that whatever those reasons are they're valid and acceptable, was hugely affirming. My reasons are different from hers, so my travel will be different. I didn't realize it, but often this is what I listen for hidden between words in interviews on Adventure Rider Radio.
I'd like the next step to be overseas… but for now, I needed to take care of my bike/home.

I hope Rich and Melissa weren't too disappointed that half the time I was content to stay in – I had hair to retouch for the wedding, knitting gifts to finish, and pockets of my jacket to repair (thanks to Melissa's sewing supplies!). Not that I don't like exploring the Philly, but it was pretty great that they regularly cooked at home and we could just chill.

Kenric and I had made plans to record a podcast for his blog, with whomever else was in – Leon, and James, a photographer. I'm much more comfortable writing than recording, but it was great hanging out and of course, the best stories came out when the tape wasn't rolling.
I also meant to test ride that beautiful old Triumph pictured earlier, but I'd barely made it down the driveway when the power went out. Apparently, the headlamp had been left on too long, and the battery was dead. This was actually a bit of a relief to me, because although I told myself repeatedly that the rear brake and shift lever were swapped on this machine, once rolling my first instinct was to tap the wrong lever. Actually, my first instinct after pulling in the clutch was to twist the whole grip up, but that's another issue.

Back in the day when I was shopping for a place to relocate, Philadelphia was near the top of my list. It has a good scooter scene, the city is big enough that there's plenty to do but still some affordable neighborhoods, it has history, it has good tacos… It's a little rough in places, but maybe I like that about it.
But Rich and Melissa were rolling out to the NSP scooter party, and I was ready to roll out too. Watching them load the truck reminded me of bygone days working comics and art conventions, but with more camping gear and booze.

I stashed as many bottles as I could carry onboard (hooray for the Pelican!), which was fortunate because stop-and-go traffic at the casino hotel vacation complexes in Ocean City, MD left me exhausted. By Virginia I caved at one of those campgrounds that touts itself as 'family friendly' – that is to say, overpriced and full of screaming children who have been given too much sugar by their parents, who themselves have checked out behind a growing pile of cheap beer cans. At least I didn't care if I made noise too, and passed the evening cracking into my Sixty-One, texting Fred whenever the winds of cell service blew my way, and playing a solo tent concert in my underwear; my ukulele cover of The Road could use some work.
I woke early the next morning to ride the remaining 149 miles to Richmond, crossing the fantastically long and flat Chesapeake Bay Bridge Tunnel (it's like riding on the water, with wind roaring in my ears and seagull road-sky-kill to dodge!), arriving chilled but in time for Davide and Emmy's wedding ceremony.

I'd no sooner parked my bike in Donna's garage than I was whisked into the excited fray of wedding-prep. Also, my plus one arrived!

In weddings past, Matt had become established as my go-to plus one. He would invite me to the weddings of his friends that I didn't know and I would party and get dress up drunk, and in return I invited him to the weddings of my friends that he didn't know, to party and get dress up drunk.

I swear something about two-wheeled travel, especially when it's chilly out, accelerates post-ride uptake of alcohol into the bloodstream. I suppose it could also be the absent minded sipping of Prosecco all afternoon while helping to set up. When all the ceremony and dancing was done, I used my last shred of energy to check the time from bed: it was barely 11pm.

The following days included scooting Matt to the bus station, cleaning up a regrettably exploded bottle of Noble Rot in my Pelican (dammit, not as vibration-proof as I hoped), and hanging out with other 7 Hills folk at Hardywood Park Craft Brewery. Now that wedding stress was past and I was in his locale, Davide suggested one more buddy ride for the season. This time, I followed him for the ride.

There was one more piece of Richmond life Davide wanted to share with me. His circle of friends call it Family Dinner: a Monday night habit of picking one of their homes to meet and cook and eat a big meal together. This Monday would be extra fancy because Davide's family was in town from Italy for the wedding.
As someone who dines solo the bulk of the time and rarely has immediate family nearby, this act of adopted-big-family warmed my heart. Also, it warmed my belly, with pitchers of negroni and this pan of meat that's been marinating and slow cooking for two days.

I'll be returning to Richmond later, but next stop is San Francisco, CA!