Barcelona: Parc Güell, Barceloneta, and Moar Food (Part 3 of 3). August 14–21, 2019.

Back in Barcelona, Anita and I still had some work to do. And sightseeing and eating, of course.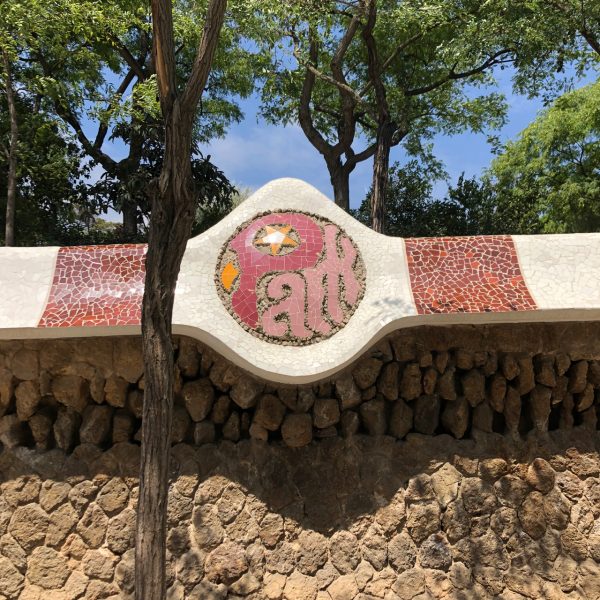 My friend Kyle texted me from Boston with many recommendations for things to do in Barcelona. I ruled out the Hop On Hop Off bus (why would I pay for a ticket when I can hop on and off my own Vespa? Oh right, day drinking) and getting picked up by bachelorette parties (…). I did, however, take his suggestion of parking at a nearby vista and hiking into Parc Güell to avoid the crowds at the main entrance.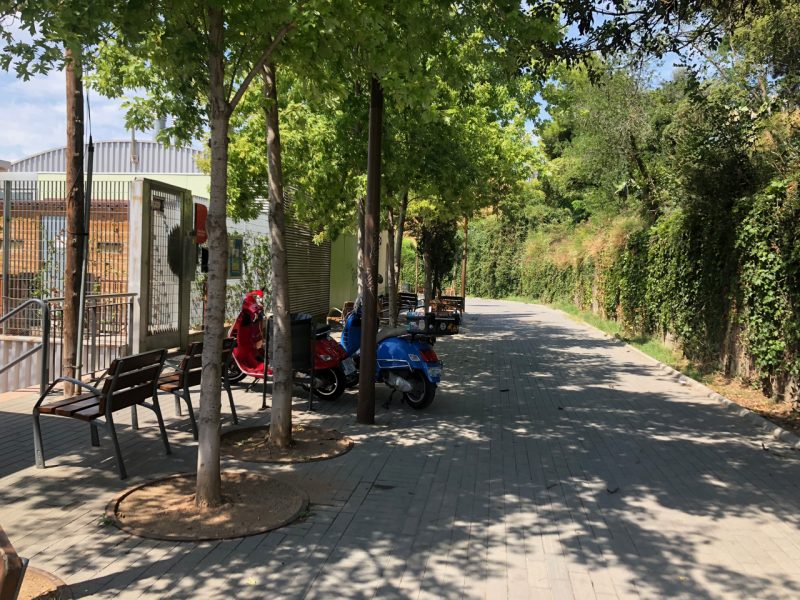 Anita and I were treated to a beautiful, switchy local ride that climbed to an overlook of Barcelona, complete with a busker playing Spanish guitar.
Thanks, Kyle. You are missed, my friend.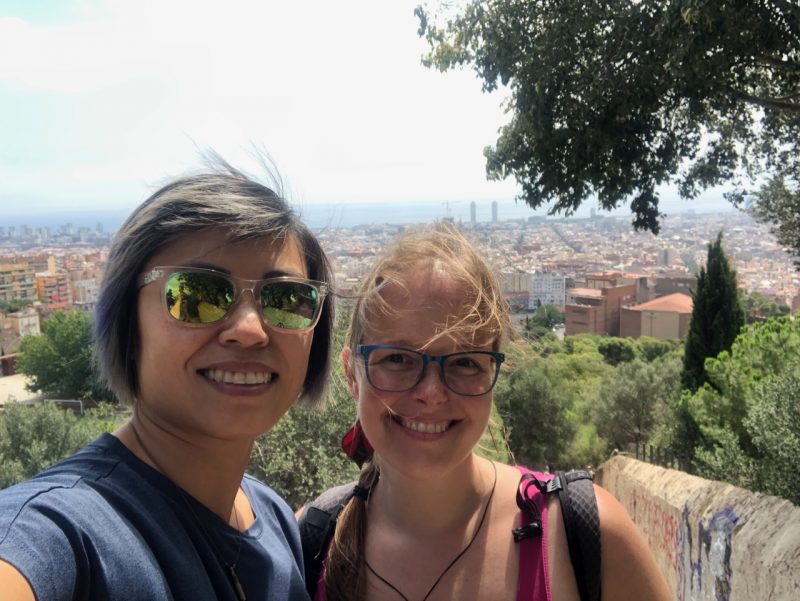 Unfortunately, I didn't much enjoy the park itself. We didn't buy tickets for the Gaudi House, the only place that wasn't crowded because you're required to buy tickets for specific time slots. The rest of the park was like Union Square in NYC. On a weekend. In August. Relentless heat aside, it was difficult to appreciate Catalan modernist architecture while dodging yelling hawkers and screaming children. I'm not very good at being a tourist.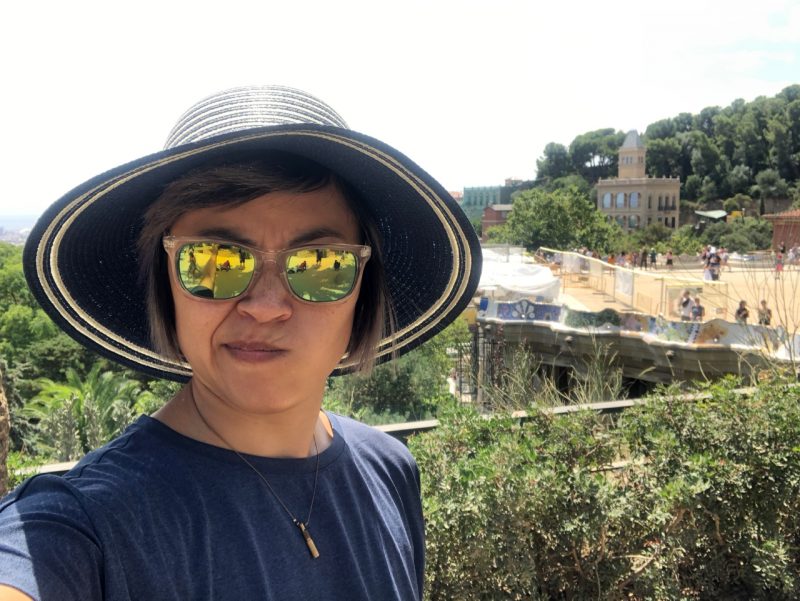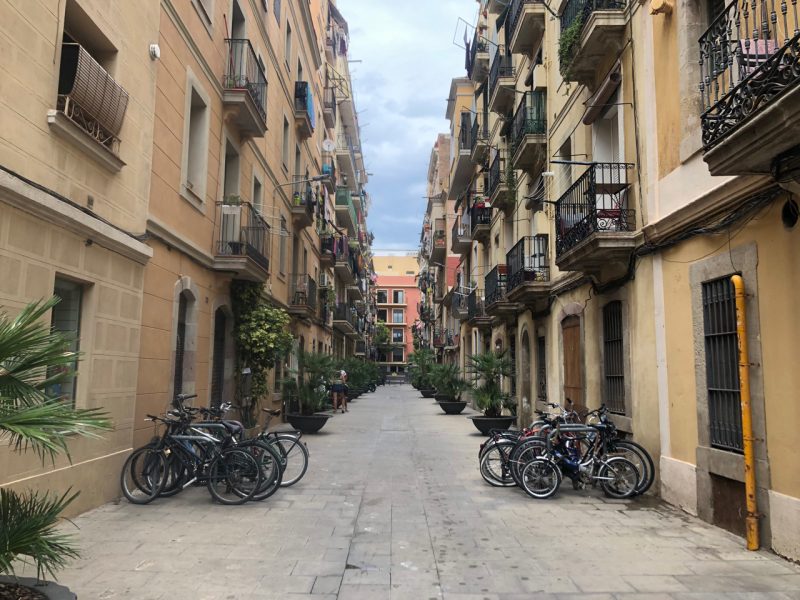 I had a recommendation for La Cova Fumada, a small family-restaurant on Barceloneta with tantalizing tapas photos. Unfortunately, when we arrived their doors were shuttered for vacation (August!). So we settled next door yet again, at La Violeta Bar.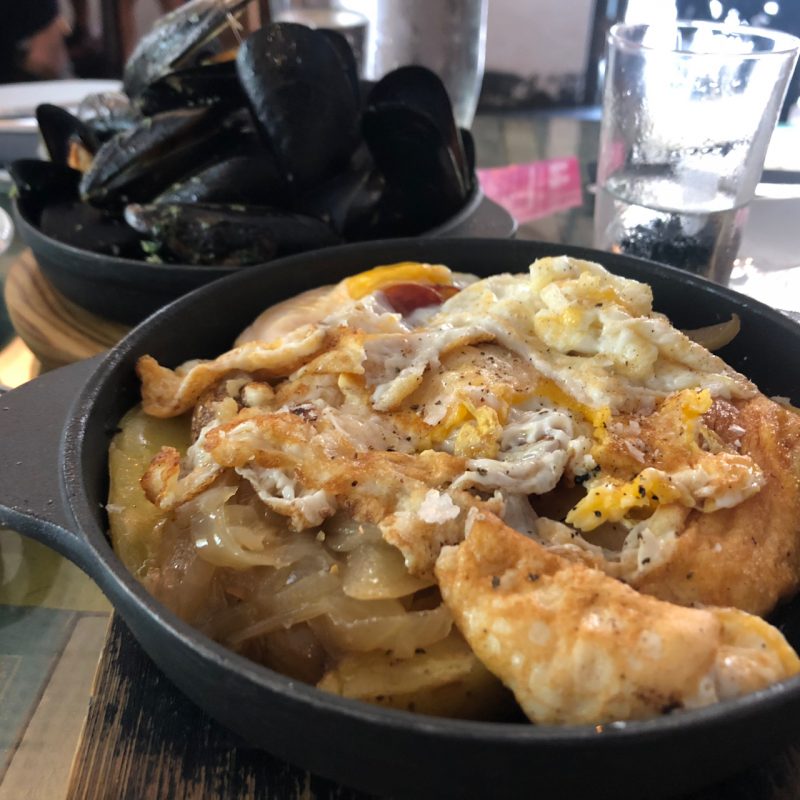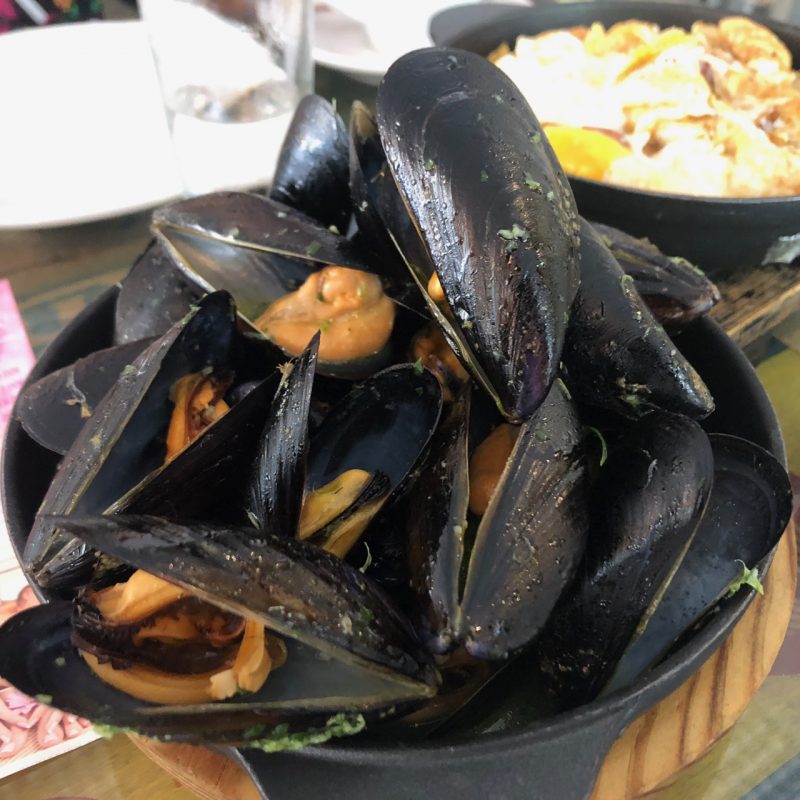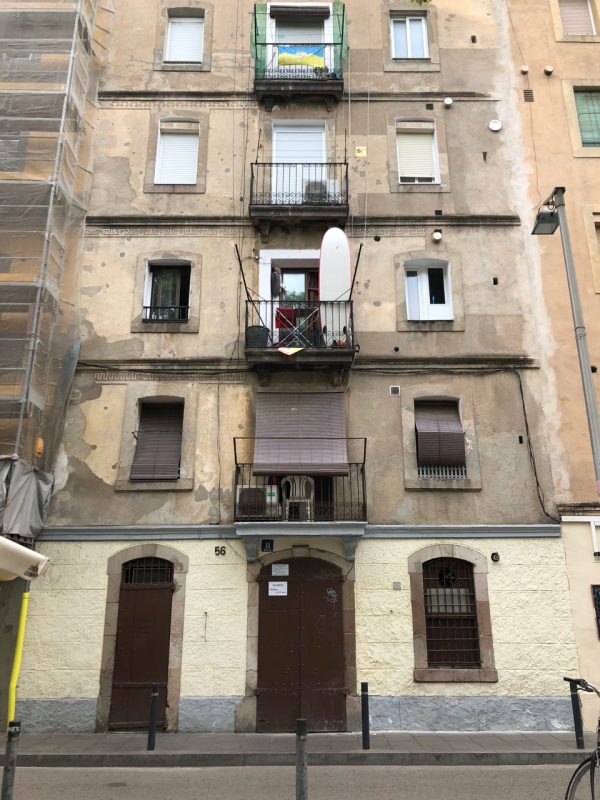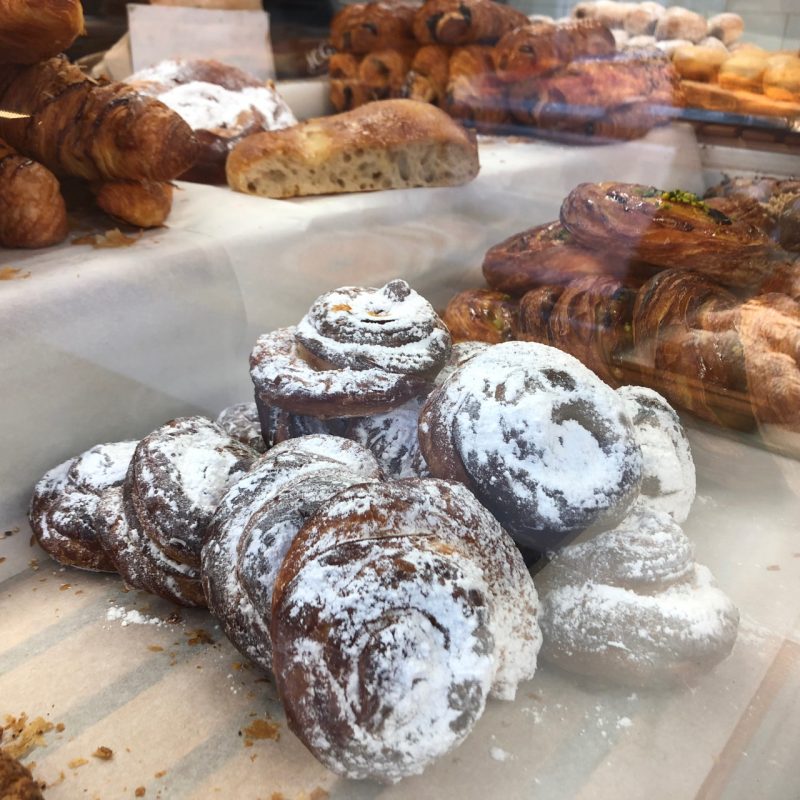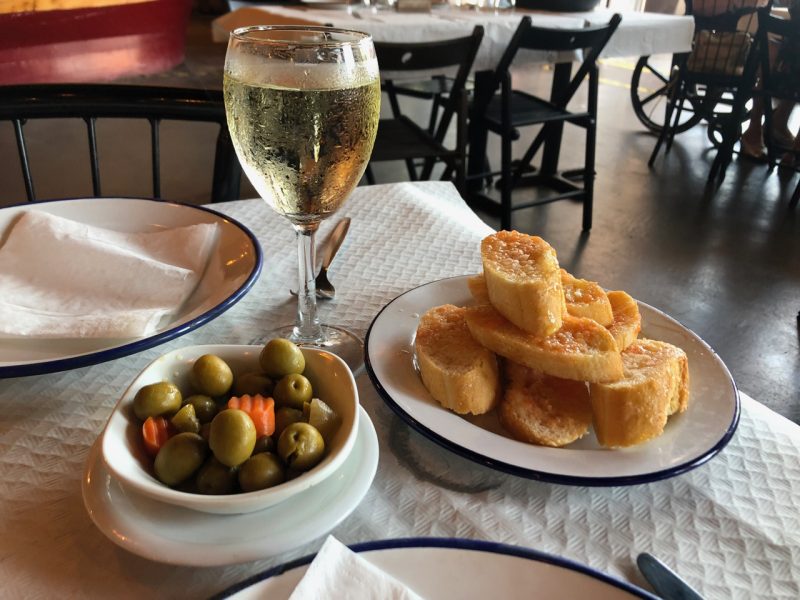 Bel had mentioned a seafood restaurant that previously hosted a hundred scooterists, El Racó del Mariner. "Just tell them, 'Soy amigo de Bel' and they'll fix you up," he said confidently.
On a cloudless ride along the coast to the restaurant, the bustle of the city was quickly replaced with slews of low-slung seafood establishments and many, many shirtless Spanish men enjoying leisure time at the beach. My blood felt hot in my veins, it must be the sun…
I arrived ahead of Anita and was greeted by the barman, a tall, charismatic man with dark skin. Tentatively, I pulled the Bel card…and it worked! He started a paella for us right away and went down the menu (Spanish only) with his top choices. I simply nodded dumbly, hoping Anita would arrive soon with a big appetite. He ushered me to a table where two glasses of vino blanco appeared with astonishing speed.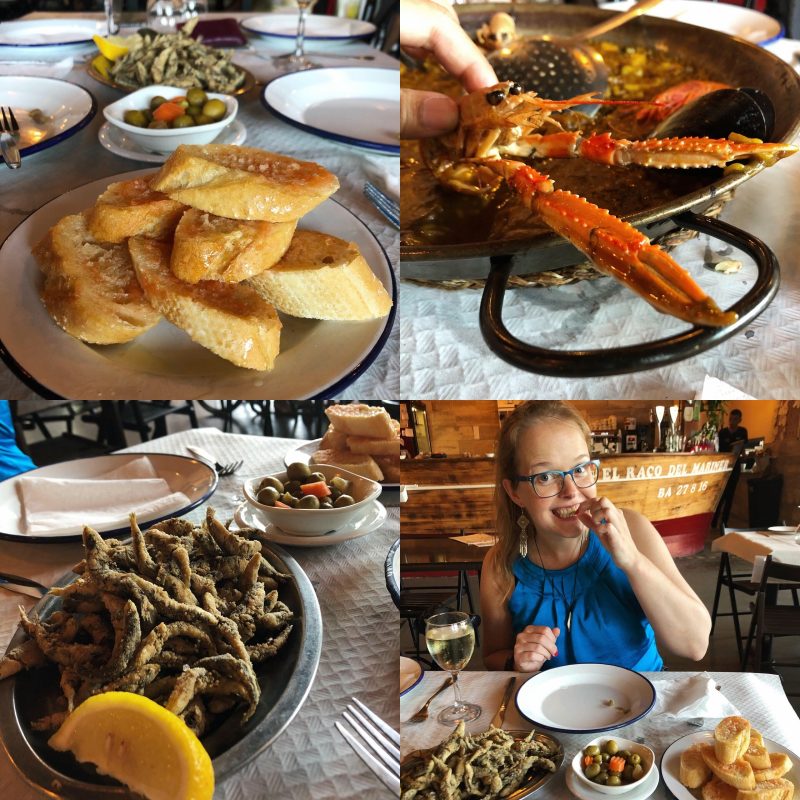 We were gleefully gnawing our way through the apps but the paella was clearly the main attraction. A ludicrous portion of sticky, spicy, ocean-flavored rice was revealed before us, festooned with all of Ariel's undersea friends and lorded over by two oversized, spiny, lanky crayfish looking things. Langostino, Fred told me when I sent him a photo. They looked mean, like they would beat the snot out of a prawn or mudbug that owed them money.
But for all their spines on the outside, they were sweet on the inside.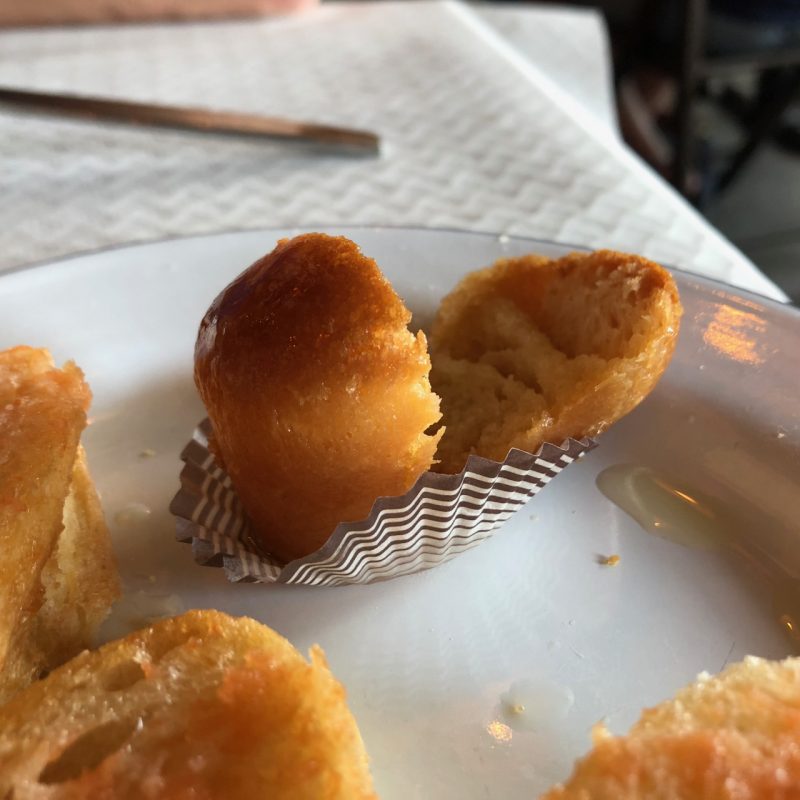 Two birthdays happened while Anita and I were eating and talking, and a dessert platter arrived at the table next to us. We must have drooled visibly because one of the guys reached over and offered us a piece. He spoke Spanish only and simply described the item as "fuerte"—"strong." I don't know what I expected, but biting into a sweetened sponge soaked in booze was a surprise!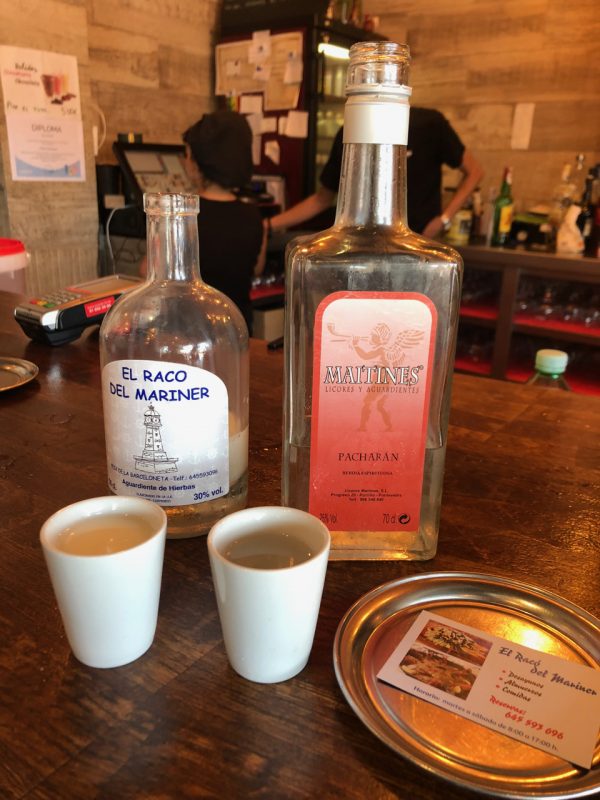 Before we departed with our boxes of leftovers, our barman friend offered us a taste of two digestifs: a white one ("This one for the ladies," he noted) and a clear one. The white spirit contained leche and I'm leche-intolerant, so I asked for a tiny taste of the Manly Drink.
He poured a full shot. It was fiery and herbal like a jaeger. Suddenly, I understood… I felt like taking off my shirt like all those men on the beach! I needed to check if I grew a chest hair.
Anita said the white one was sweet and mildly herbal. She bought a bottle!
Very merry now, we needed to go for a walk around the marina before returning to the bikes. Somehow, our work lunch break ended up taking 3.5 hours…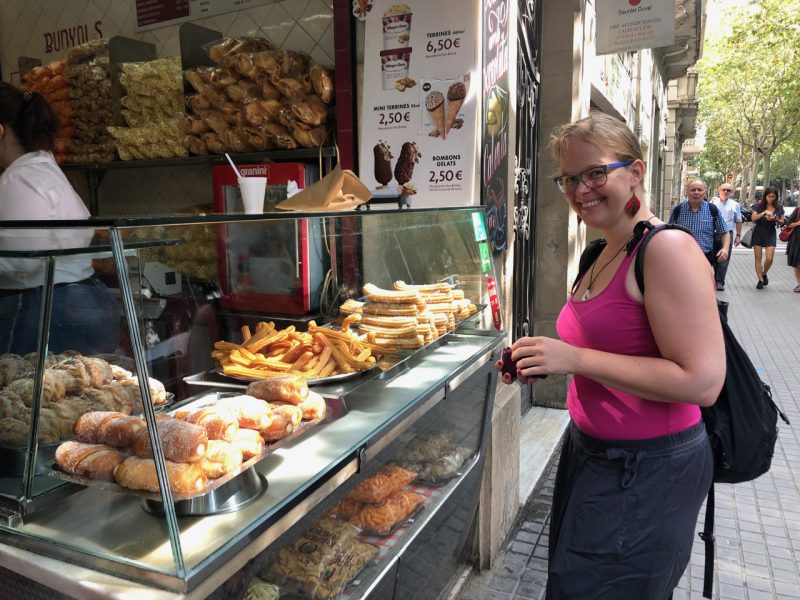 Churros in Barcelona are not to be confused with the hollow fried cinnamon sugar sticks sold outside of Costco in the U.S. that share the name (as delightful and nostalgic as those are).
Our half dozen churros came in a paper cone, hot and fresh. The dough itself was unsweetened but tossed in sugar, and paired with a styrofoam cup of dark 'drinking' chocolate so stout I'm positive the plastic spoon stood up in it. An elderly patron at the metal counter beside us mimed directions for consumption: Dip extruded doughnut into the chocolate like a giant dessert french fry, place in mouth. Rejoice, repeat.
I immediately burnt my tongue. And went back for another bite. The crispy fried dough, sugar clinging to the ridges, drenched in rich molten chocolate lava… my life up to that point had been B.C.—Before Churros—and now I was changed. If there's a better compliment for chocolate I've yet to find it, churros and dipping chocolate deserve a place on an altar. It's an epic food pairing for the ages that makes peanut butter and jelly look like highschool flirts.
How on earth is this considered breakfast?! If I started my day like this I'd have nothing left to look forward to.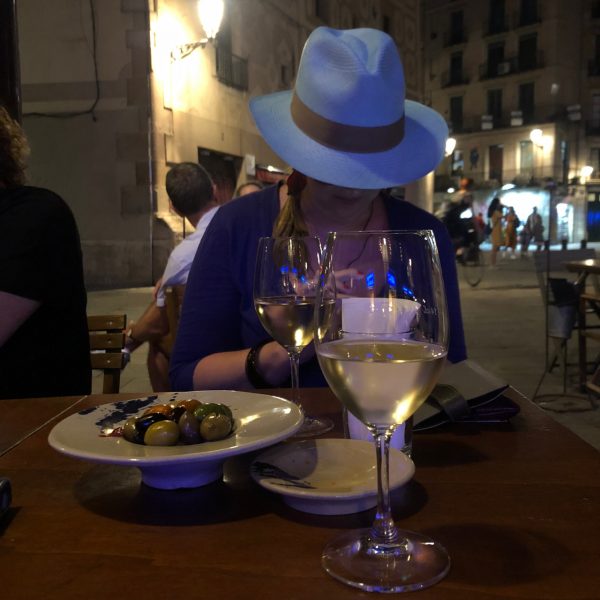 I don't recall exactly how we found our way to my new favorite spot in Barcelona, only that Anita and I were wandering down compressed corridors and shuttered storefronts near the Gothic Quarters until, suddenly and theatrically, the alleyway opened to reveal the Basilica de Santa Maria del Mar. At the footsteps of the imposing religious edifice, La Vinya del Senyor bustled.
There were no tables available but two women chain-smoking with a bottle of red offered to share their 4-top with us.
"We come here all the time. They serve only wine and water. And some small tapas. It is better to get a whole bottle," she paused to pull on her vape, "You know the Basilica? A book was written about its construction. Usually, it is lit up, but tonight," she gestured at the dim building and shrugged.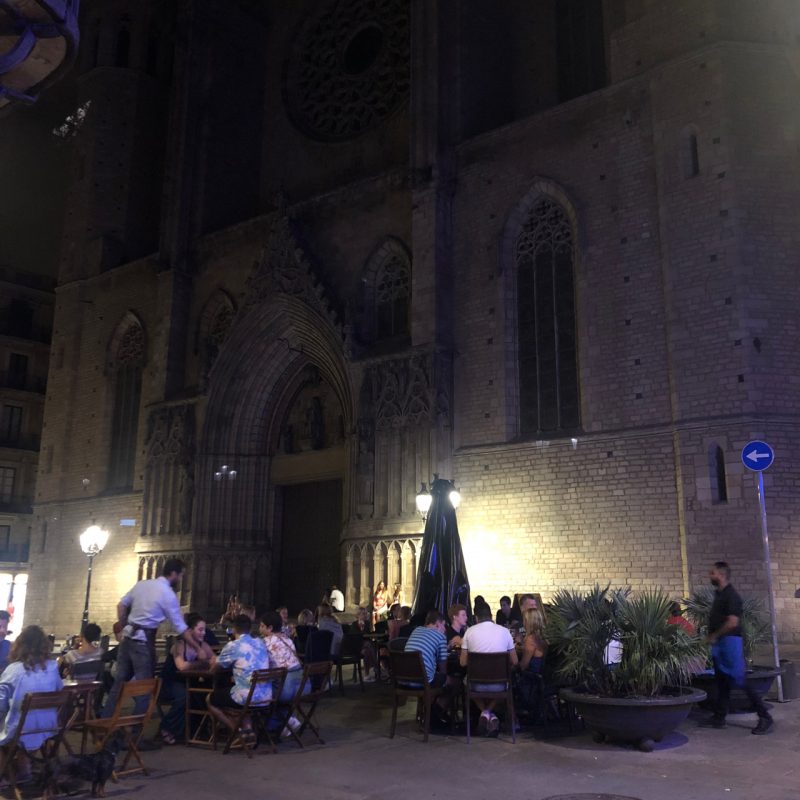 There are some experiences that stand out in memory for being simply and delightfully perfect. Sipping wine with Anita in front of this ancient stone structure, surrounded by Spanish chatter on the first cool night since I landed; this was certainly one of them, lights on the Basilica or not.
The mixed olives on their own were magical. One was earthy, another was spicy, some were firm while others were tender and buttery, and one tasted like dark chocolate! I was sitting there having my mind blown by olives.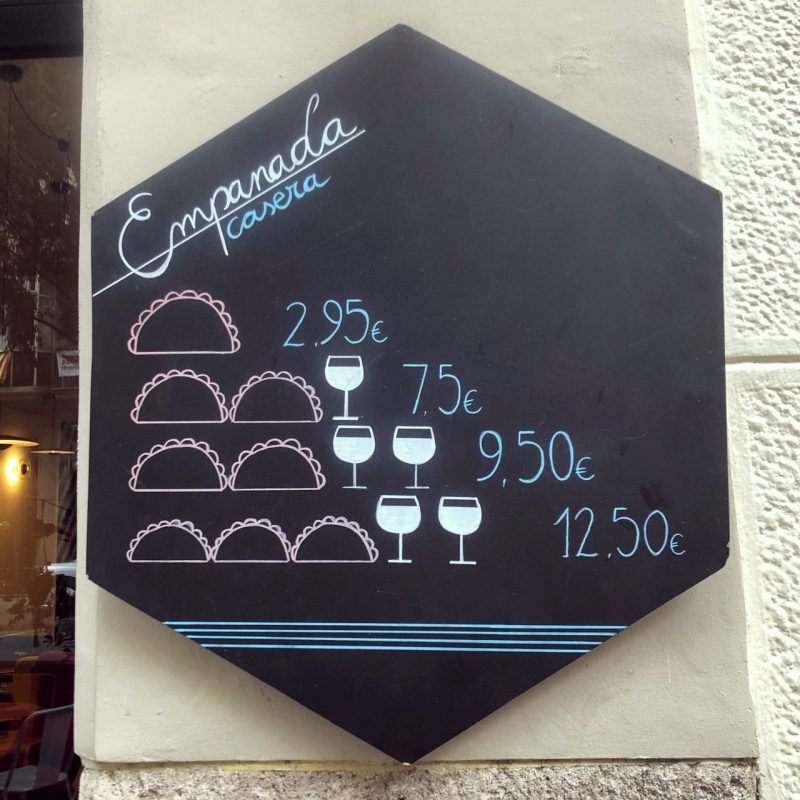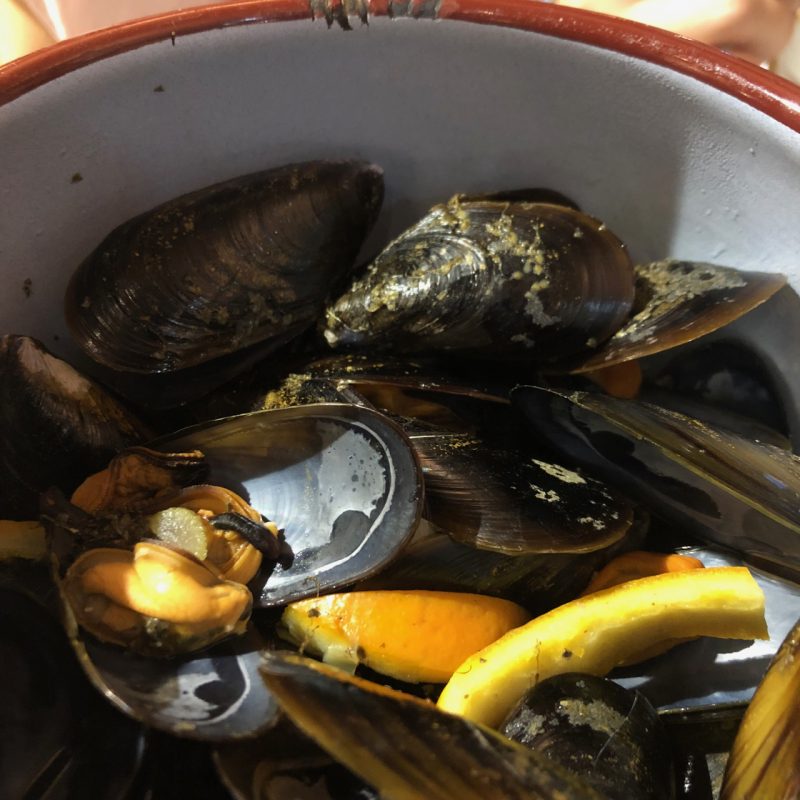 There was one more place on Anita's list that she wished to revisit before she left: Les Quinze Nitz, nestled into the corner of Plaça Reial. The classy plaza was bustling and expansive, and something about the layout of the trees, columns, and architecture had an oddly familiar vibe. I realized I'd visited many more colonies than colonizers, and had internalized Spanish influence from Mexico to Peru to California. In a small way, arriving at the source felt strangely ordinary and comfortable.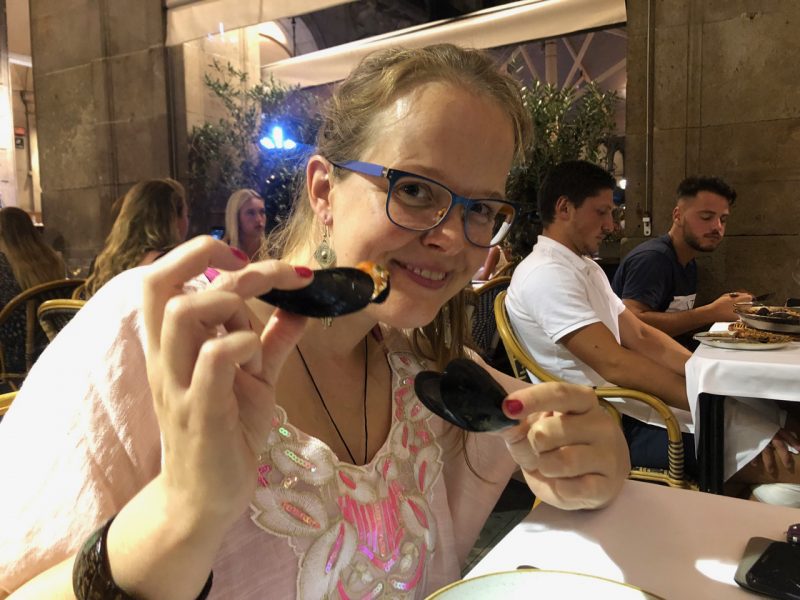 Les Quinze Nitz was significant to Anita because the last time she visited she was over 15 years ago an undergrad student! They're a modern, budget-friendly, linen tablecloth enterprise with uncompromising quality. We were chowing down on fragrant mussels, 'crystal' bread with tomato and olive oil, squid croquettes, and sangria when 11pm rolled around and we hurriedly squeezed in a last-call dessert of Los Postres de Catulayan (a fluffy, egg-white and cinnamon delight) before heading out. Anita's flight home was the next day, and I had my own plans.
The night bus was packed but deliciously air-conditioned, and half the passengers disembarked at La Rambla—this was clearly just the start of the night for many. At dinner, Anita mentioned her whole hostel room was asleep when she left for dinner. Turns out it was a disco nap, so they could stay up all night!
Back in my sticky room, I lay in bed and felt a headache coming on. Maybe I had too much salt and not enough water? People seemed to drink wine like water here, which was fine by me but perhaps a glass of clear splashy stuff wouldn't hurt.
But even though my work schedule was more chaotic, my daily page rate was on track. I was halfway through illustrating my first full-length graphic novel!
For what it's worth it's much different to tackle the workload of a graphic novel while making and executing travel plans abroad, but I would rather be here doing this difficult thing than coasting in place. Pages had actually been moving faster; I liked how something was always going on, I could pick up and put down work without feeling like I'd miss anything. Today, tomorrow, and onward, someone somewhere would be raging. People would be invited. People would stay out late. Pastries and confections would be baked, potatoes fried, and wine poured.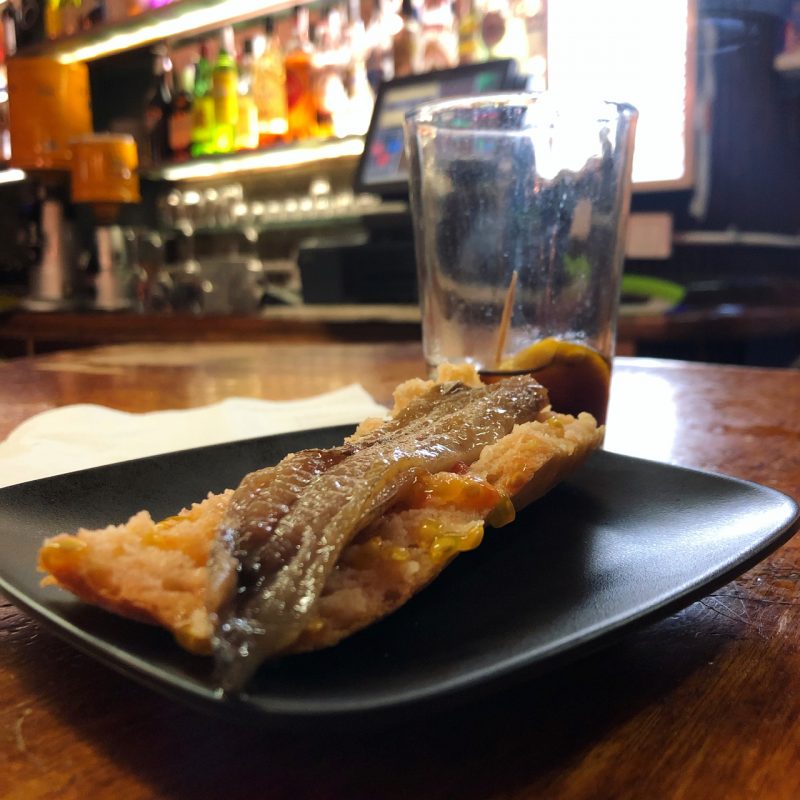 I've been asked before if I'm running away from something, as if my determination to travel against odds must be born from a need to escape. While escapism does play a role for many people (I heard Massachusetts has two seasons, winter and construction), it strikes me as a limited way to understand travel.
I do feel like part of myself goes to sleep when I'm settled, and I need to blend in with my settled friends. But I simply come awake again on the move.
The night before leaving for the Pyrenees, I packed up my bags, rearranged them to fit onto the Vespa, and had a familiar feeling in my gut.
No, it wasn't wine belly. It was butterflies.
Off to new places tomorrow.