New England Again, the Adventure Continues. July 28 – October 4, 2015.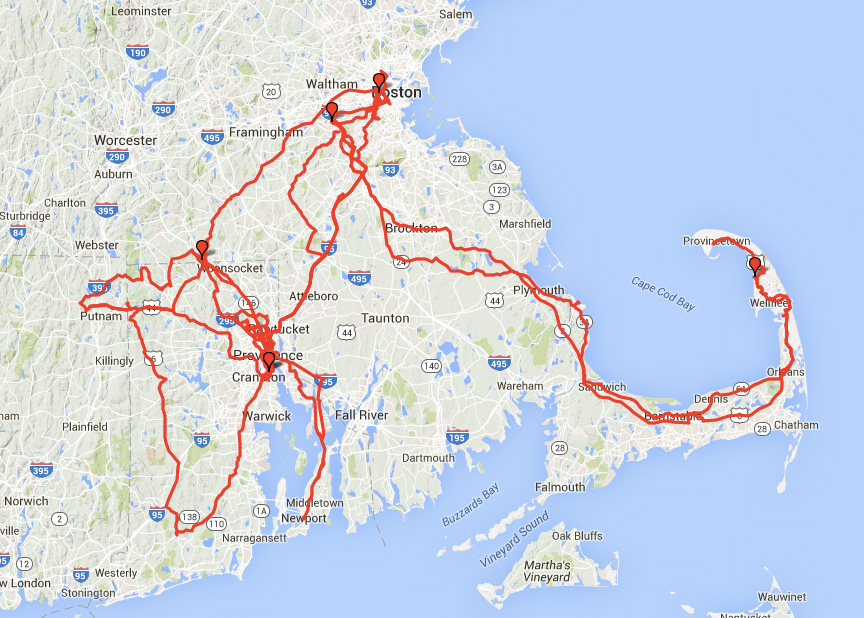 I was afraid that upon returning to Providence, I would find myself hugely changed against a static landscape. In truth, time does move differently on the road. The events of a few days easily expands to fill the space of what might otherwise be a month of fixed-location human experience. I'd been holding off travel fatigue for what felt like months, but I couldn't tell months apart anymore (I didn't experience seasons, only changing climates). I needed to let time stretch to fill itself, and was grateful Tim had room for me in his life in again.
Rest, finish some paying work, get some regular exercise, hang out with friends, and figure out what's next. Conceptually, it sounded like a good plan.
But New England still had some surprises for me.
For the cliff notes version of this time period, I made a totally adequate and more concise post in October 2015 about my return to New England. For more photos and backstory, read on.

I never planned on moving back to RI, so I'd completely overlooked the possibility of even finding myself in Providence again for any stretch of time. I was worn out and emotionally unprepared to say the least. In going through photos, this one piece of graffiti in Brooklyn best sums up my return to the northeast. But we're getting ahead of ourselves.

So of course, I immediately took off with Tim to the Troy Fair.
I've seen a lot of cows, but mostly in passing on the side of the road. Now that I've attended a fair… Up close cows are like big tent frames with lumpy bags strung between them and a rug tossed over it all. And they've got eyeballs the size of my fist. Who first thought of drinking what comes out of this swollen, veiny, pink bulge between a cow's legs?!

I think I had some image of myself prancing around Providence, wearing all my cute outfits from storage (now an enormous offsite walk-in closet!) and hanging out with old friends. Of course, when I was actually confronted with the unit I was crippled by anxiety over the sheer volume of old stuff I hadn't thought about since I left. As for hanging out with friends, most of them keep regular job hours during the day, like the good contributing members of society they are. Both of these added up to finding myself alone often, wrestling the ghosts of my former life and decisions about the future, feebly trying to take down a backlog of work. There's only so long you can illustrate SpongeBob before needing a break, and time alone without the road made it too easy for thoughts to stray towards anxiety-making. I made a point to rescue athletic gear from the unit, and picked up running again at the nearby Roger Williams Park Zoo.

Kyle mentioned he wanted to pick up his VBB from his parents' place on the Cape. He was going to take the ferry, but I jumped at the opportunity for a field trip and asked if he wanted company. I ended up riding him out there (new record for carrying a passenger 100+ miles!). It's a considerable haul, which meant it was a great excuse to see his friends in P-town and save the return trip for the next day.

I had only visited Provincetown once long ago, when first breaking in the GTS. It was March then, freezing and off season. It's a completely different place in the summer – a beautiful, glittering New England Bourbon Street. Drinks with new friends on beach decks against the sunset, wandering through shops selling Cape kitsch, and colorful people up all night… it was a fantastic blur. Or maybe that was the rum punch that Rob was about to hand to me, then pulled back and asked, "Do you like Bacardi 151?"
"Er, not usually?"
"Then you might want to do this." He stirred briskly with the straw, and then handed it to me.

I don't have any un-incriminating photos of Kyle, Jess, or Rob from this excursion. So here's one that Kyle finds merely unflattering, to prove that it wasn't all rum punches. Just mostly.

I should point out, I actually don't much like running. I picked it up because it's a form of exercise that travels well (only 'special' gear is a pair of good shoes and sports bra), and sometimes it's nice to use my body as something other than a vessel for food, drink, and scooting.

Temps were still peaking in the 30s (Celsius), but I knew if I didn't make a plan fall would usher in the dreaded New England winter, and I was quite done with that. I needed to go south, and decided there wasn't a reason to keep holding on to things potentially another whole year.
Through the local Couchsurfing discussion boards, I met a few CSers looking for tips on beer halls in town. Among them was John, who had just moved to Providence by bicycling from Seattle. He had only what he carried on his bicycle, which was enough to live on for the month he cycled. I offered to give him everything I was moving out of storage (most of my kitchen and misc), delivered by scoot. It was nice to be on the side that could provide things, after so long being on the side of accepting the kindness of strangers. He was still actually doing me the favor, helping to whittle my storage unit down to fit into a truck, eventually bound for storage in upstate NY with Tim's parents.

Through the Modern Vespa, another RI member reached out to me! Jeff (LC353) arrived on his ET2, and we planned a bit of sightseeing in his home state.

Jeff insisted that I couldn't leave RI again without having mako in Newport. Along the way, I made a point to cross Mount Hope Bridge. In 2012, I'd barely had my Vespa a week and took it over Mount Hope, my first big bridge. If the suicide prevention sign wasn't unsettling enough, I managed to cross on a day with 50mph gust warnings. I was white knuckled the entire time, unsure whether it would be worse for my new bike and I to be blown off the side of the 2-lane bridge or into oncoming traffic. Of course I survived, but I had acquired quite the fear of big, peaky bridges (like the Sunshine Skyway in Florida, or the Ogdensburg-Prescott International Bridge, which is bonus 1.5 miles of grated steel).
I was glad to find that thousands of miles had eased that anxiety, and I could enjoy the view from Mount Hope Bridge without acute mortal fear. Aw, personal growth.
And there was a seafood feast to be had with Jeff, at Scales & Shells!

Matt, former Providence resident and visitor in San Francisco last winter, had just moved into his own place in Bay Ridge. His new home had…let's say spartan furnishings. I offered him much of my furniture from storage, if he would come to Providence and haul it. Cue the Matt and Steph Providence revival tour!

I joined Matt in the moving truck to Brooklyn to hang for a while, because the eating and drinking is fancy with this guy, and also… I wanted to give Brooklyn another chance. Matt and old friends aside, there were work reasons to find myself in NYC, and unlike RI, when it got cold I could still reasonably get around on public transit.
It seems like I'm always trying to get around winter…
Anyhow, we had posh places and dive bars to check out, plus some warehouse techno partying.

It was great fun being back in town (I even met up with Wally visiting from Toronto!), but for whatever reasons it was clear Brooklyn didn't hold the same magic it did for me back when I was fresh from art school. As I boarded the bus back to Providence to be reunited with my waiting bike (thanks for holding it, Jim), it was resolved… I just have to keep moving.
Fuck public transport – though not really, I wish mass transit was more common in this country – the best way to keep riding through winter is to not be someplace with bad winters, right?

At the Rally of Northern Regression, I'd reconnected with Fred (I also stayed with his sister in Montana). He asked if I wanted to see Frank Turner with him in Boston. In fact, Frank Turner's song, The Road, was partly responsible for inspiring me to set out for the four corners of the US.
Coincidentally, I was already planning to be in Boston for the Distinguished Gentlemen's Ride.

Two years prior I attended the Boston DGR, not knowing what to expect. I found myself wedged-in shoulder to shoulder with sharply dressed men and cafe racers, neck deep in motor oil and cuff links. I kept checking my pulse, to make sure I hadn't died and gone to heaven.

Just as I'd resolved to continue roaming, I was getting caught in Boston a lot. Bad weather kept me in town, then I decided to go rock climbing with Fred, then ramen with Fred, and checking out Fred's new Lambretta build… Who is this Fred guy?

It seemed terribly unfair to have met someone I already knew but didn't have a chance to get to know until now. And now I wanted to, but I'd worked out a plan and the pieces were already in motion. In a few days, I'd haul down to Philly to hang out with Rich and Melissa, and see Anna Grechishkina's presentation. Then I'd continue down the coast to arrive just in time for Davide's wedding in Richmond, VA. After another Gudetama interlude in California by flight and Pete's bike, I'd return to RVA just in time for the Indian Summer Rally. Some rambling along the Outer Banks would ensue, then I'd ensconce myself in Atlanta for the winter months. Did I mention there was a plan?
I was done with the northeast, reaffirmed in my nomadism, disinterested in doing the long distance thing. And yet here and now I was staring down the barrel of possibly taking a new relationship on the road. How much of what I felt was just the usual intensity that comes with short-term exposure to the wandering life? But he embraced extended travel… So, I suppose in a way, here was a new road after all.

Now that I found local scooter friends, I was reluctant to put distance between us. It was almost like I went around the country just to find people back where I started. I wondered if I'd met them sooner I might've stayed based in New England; typically when people fight complacency, they move to a different city, pick up a new hobby, or have children or something. In my heart I knew it was foolish thinking, my wanderlust and inability to do anything except to the extreme would have resulted in embarkation sooner or later. Now, more often than not I caught myself looking at acts of 'regular life' with the faraway sigh of a tourist.
After all these miles, I actually did find a home: My bike.

I used to agonize over which shirts I'd bring, whether I had enough underwear, what gear was best for every temperature, and how to rainproof everything. Now I just throw some sets in a bag. No longer do I try to pack for all seasons and every eventuality, I've learned what road situations I loathe (the cold, mostly) so I pack adequately for that. Then I pack for what I know is ahead, and address changing needs as they arise.
This time, I'm expecting cooler temps and two dress-up parties. The pack evolved to include silk/smartwool layers, 2 dresses with a pair of matching heels, a patterned scarf I missed wearing, and a ukulele simply because I found it in storage and enjoyed playing it again. When it rains, I'll find some plastic bags. If I need something, I may be able to borrow or buy it secondhand, cheap enough to get by. When I'm done using them, I'll ship or give them away.
The rest… I'll figure it out as I go.