Where's Steph in 2020, the Year of the Rat(bike?)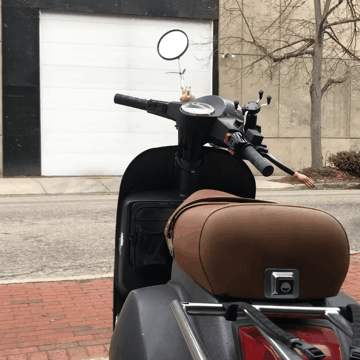 Whoops, we're already most of the way through January 2020 and I haven't made official announcements for riding and travel?!
I wish this post was more substantial, but winter threw some hard curveballs and I'm still getting my wheels back under me. Continued travel does favor a degree of advance planning though. Working between visa-exemption limitations, expected job deadlines, and commitments to a few fixed dates in 2020, it made a lot of sense to layout roughly when and where around the world to find myself for most of this year.
So here's how my 2020 is shaping up. I'm traveling so slowly I might be going backward! Maybe I'll return to the EU in October and get my bike further east, I'm itching to explore Italy, Greece, and Eastern Europe.
January 2–24: Chiang Mai, Thailand from the 4th–20th. Premature return to Boston from Hong Kong (sorry, no Chiang Mai this winter).
January 24–February 1: Seattle, WA by flight. Gong hei fat choi, west coast! Will be carrying helmet and gear, can ride though I expect rain.
February 1–4: Portland, OR by train. Have helmet and gear, you know the drill.
February, 4–6: NYC for work.
February 6–19: San Francisco, CA by flight. We're so gonna ride!
February 19–April 5: Boston, MA working hard and tending to my Stateside stable.
Right about now, the outbreak of COVID-19 prompted lockdowns around the world. Immediate plans for travel after this point are postponed. Read more here.
April 5: Time to pick up Serenity and go exploring! Return to Lisbon, ride south to Algarve, Spain, Gibralter…then, three weeks in Morroco!!
May: Return to Spain from Morocco. Rough plans to work from southern Spain; Malaga, Granada, Seville…
June: TBD. May return to Lisbon and catch up on work. May press east to Milan, store the Vespa and return to the US in time for Fred's birthday and Bandcamp 21, Jun 18–21. Either way, my 90 days in the Schengen zone will be running out.
July: I'm sorry to miss European Vespa Days in Guimarāes, but I'll be in Massachusetts again for July 4th to scatter Kyle's ashes on the Cape.
July–August: Boston. New England Rally. I intend this to be my last summer in Cambridge, so I'll be putting my meager possessions into boxes and working on my next move.
September: TBD. Find another home. Figure out where to put my bikes.
October: Back to the grind. Hand in Katie Book 2.
November: Return to Serenity in Europe? Take another bike south to Mexico?!
December: We'll see.