Trailer Queen to Who Dat? Fat Two-Stroke Weekend. August 9–11, 2019.

My last scooter rally with Serenity in North America, and she's on a truck already?! To be fair, this is the only time I've ever trailered her to a rally. This is special treatment.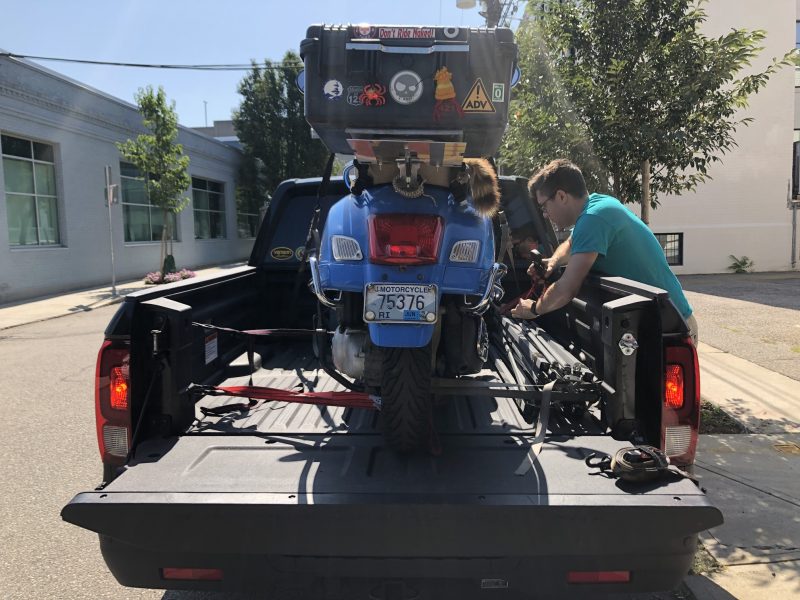 Unfortunately, with so many blackout dates coming up in Europe I couldn't justify taking an extra day off from work to make the 2-day ride up. So, onto Fred's pickup she went. Hey, after 77k miles I had nothing to prove.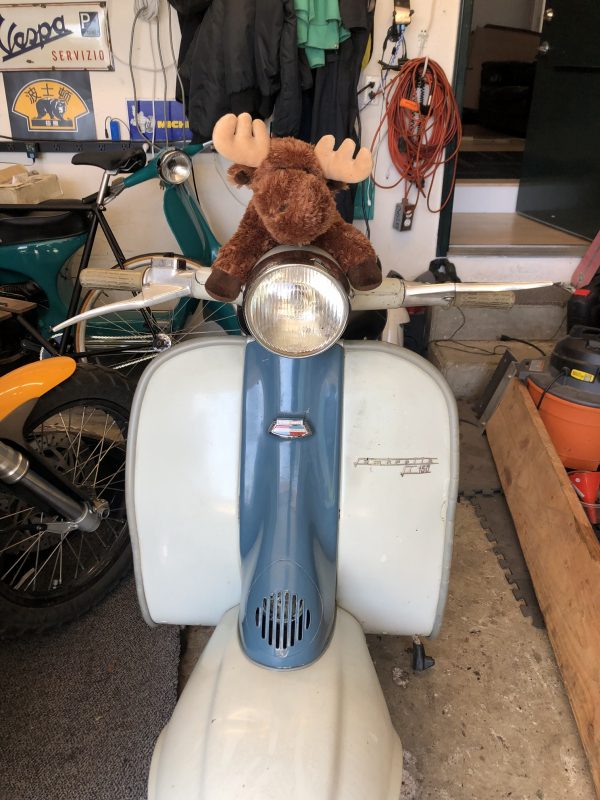 9 hours on the road later, it's time for shenanigans! Who Dat? Fat Two-Stroke Weekend happens every other year in upstate New York, courtesy of Leslie and the Buffalo folks.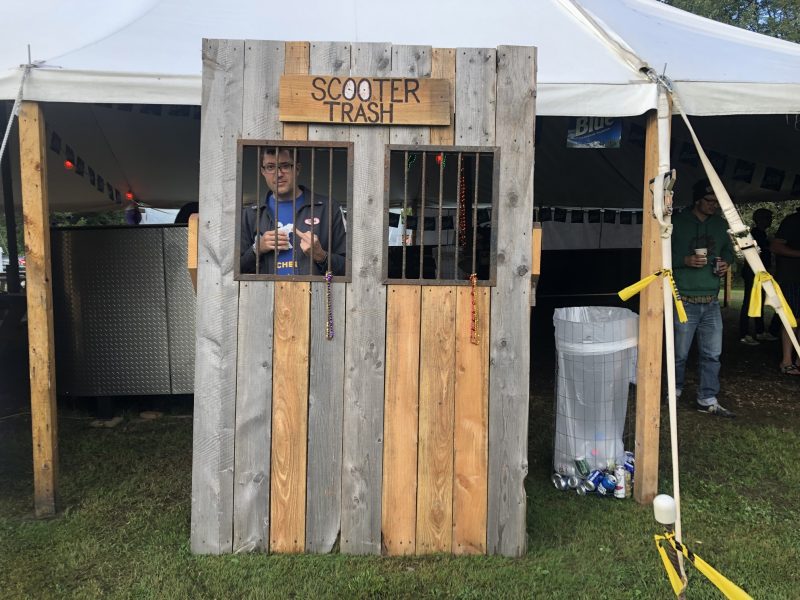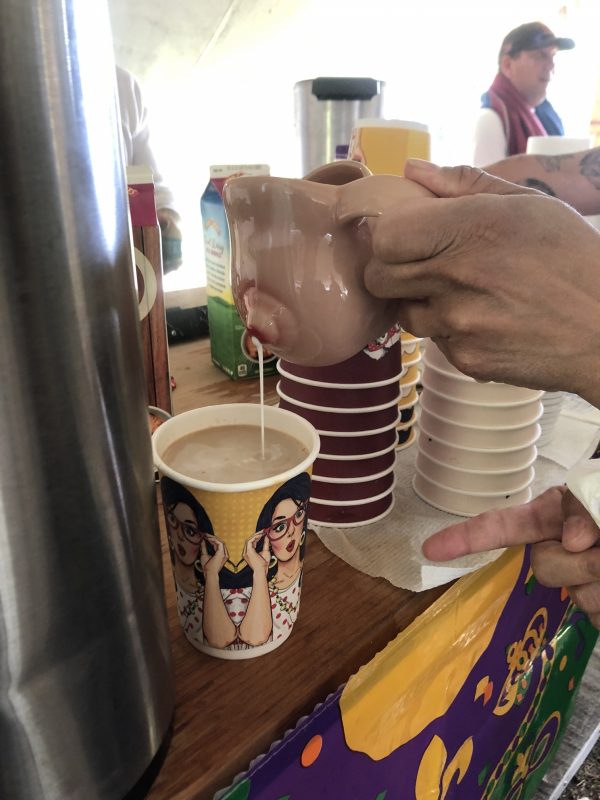 When Fred and I ride 2-up, I usually ask him to drive. With his height, it's ergonomically easier than me driving around with what feels like a telephone pole on the back. As soon as we left camp though, the sun was shining and we hit some nice curves and I realized, "This is my last chance to ride my own GTS around New York. It's beautiful today and the road is lovely. Hand over the bars!"
On the plus side, his knees made comfortable armrests at stops.
We had a pleasant ride to Ellicottville for lunch, a small town which was becoming a motorcyclist tourist destination. No photos, because I was too busy enjoying a glorious day in the company of friends.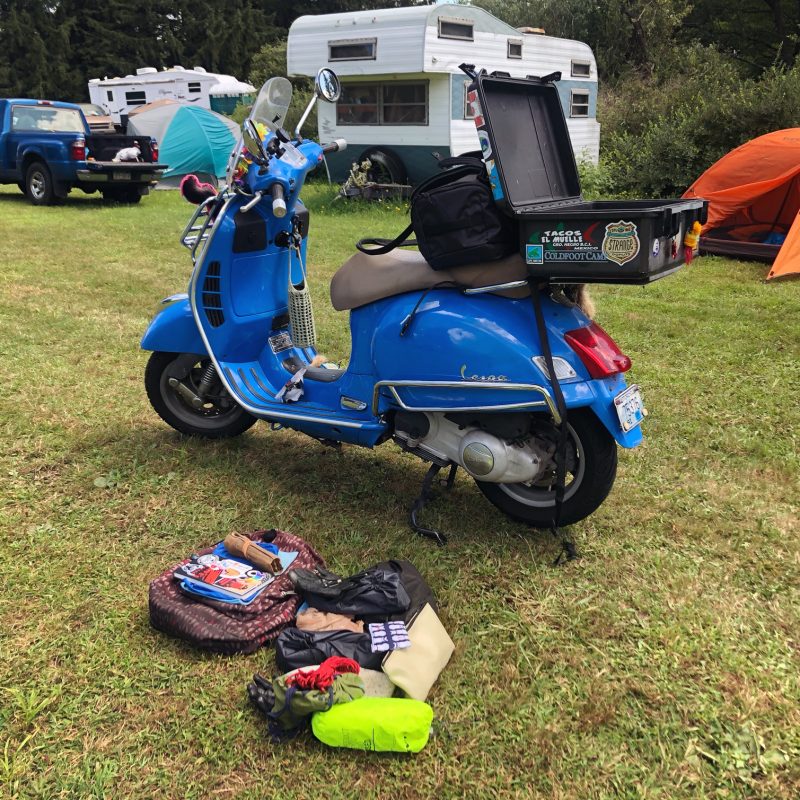 I had some last-minute repacking to do in that peaceful lull after lunch but before gymkhana and drinking ensued. I knew how everything would fit to be checked into the flight, I just hadn't finished working out how it would fit on my bike. A few small items were tossed in the truck to return to Cambridge with Fred (much thanks). It's not fun unless it's down to the wire, right?
For those curious about my Euro packing arrangement, stay tuned for a dedicated post.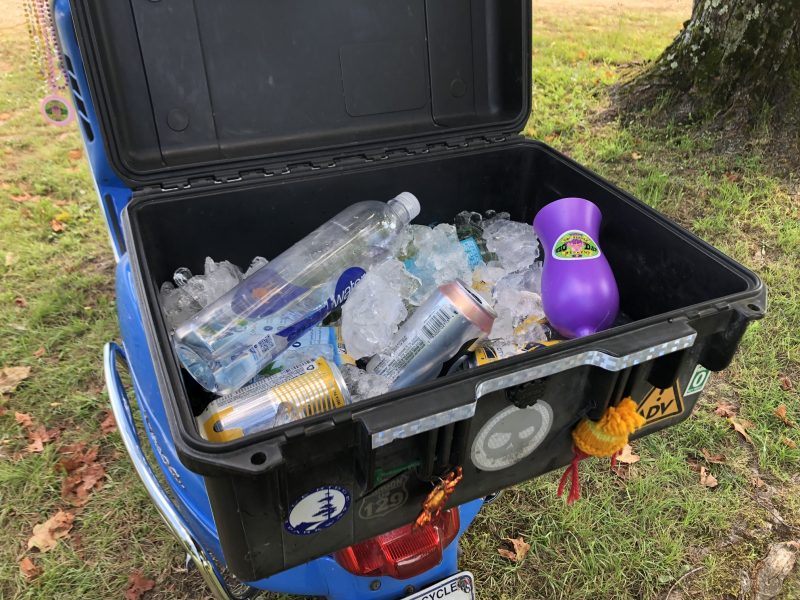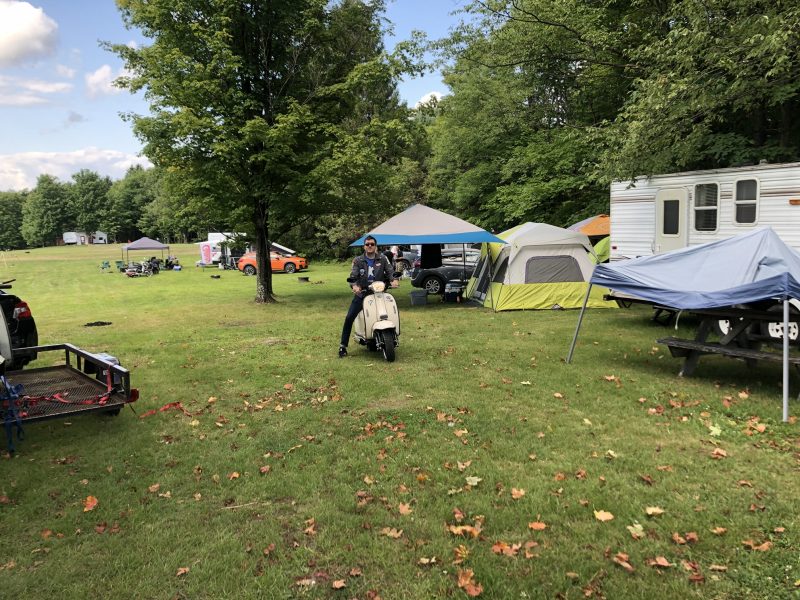 Ah, the Royal Alloy. The divisive modern Lambretta clone. Here's a video breakdown with a bit of history on the bike, and That Scooter Thing has a review of the GT150 as well.
I waited my turn and took the Royal Alloy GT150 for a spin.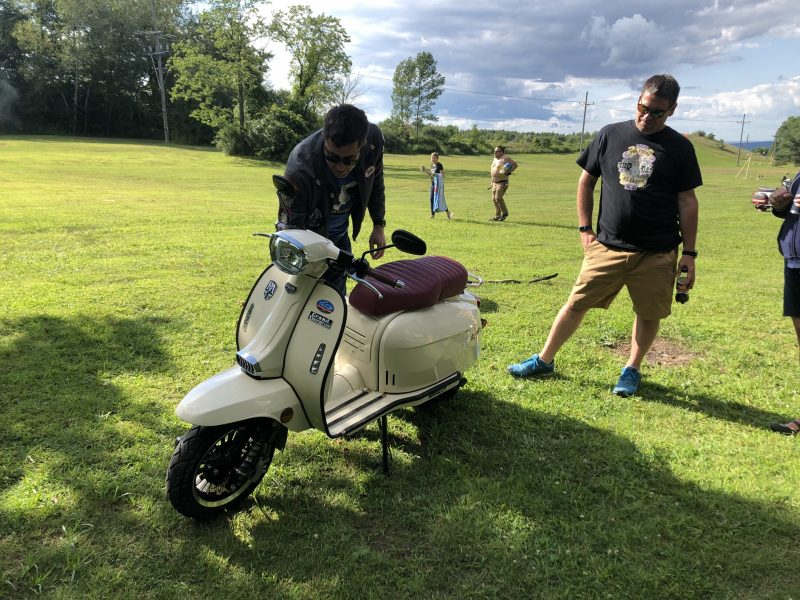 …Well, it's runs alright, but it's not love.
Granted, it's not meant for grass. It just felt like I did in highschool: fat and awkward. It had a solid frame but sat tall and wide. Someone said, "It's like a Lambretta ate a Lambretta," which feels about right. The Scomadi I sat on in Chiang Mai inspired similar feelings—although it had the looks of a classic and (one hopes) the reliability of a modern bike, it was woefully uncomfortable and weirdly perch-y. I couldn't wait to get off it.
Although the Royal Alloy is the only other metal-body scooter besides a Vespa available for the US market, I can't say I'm much interested in a carbureted 150cc 4-stroke. A classic Lambretta Series 3 "slim style" rides and handles so beautifully, I can't imagine running out to pick up the current reincarnation. Perhaps my fault is in comparing it to the source material. Or perhaps I could shove an electric engine into one of the old ones and add some speakers to play the sound of 2-stroke…y'know, simulate that unique warmth of an older world when glaciers still existed.
Those linked dual disc brakes are nice though, and people were already scheming to retrofit parts.
As a rider of modern, vintage, scooter, and motorcycle (I'll ride anything with two wheels I can reach the controls on, yes it's shameless), I'm glad this has arrived in the US….but I can't say I'm running out to the dealership yet. Still, I'm grateful Phil brought it for a test run.
Maybe I'll revisit Royal Alloy when the liquid-cooled 300cc is supposed to come out. If I'm going to straddle a wide frame, I want it to be able to do 70mph on the highway and still have passing power.
Or I'll just fantasize about other motorcycles that are more suited to my riding tendencies.
This year, People's Choice would be voted on by placing Mardi Gras beads on your top 3 picks.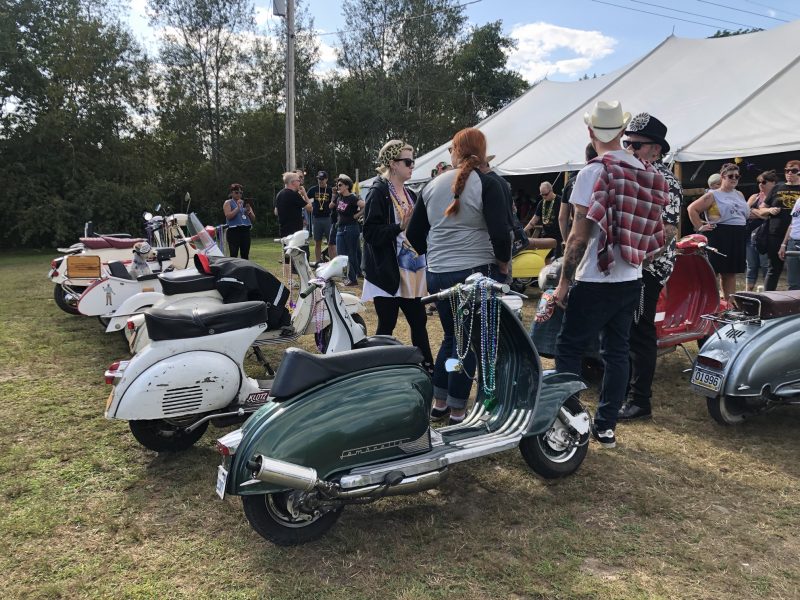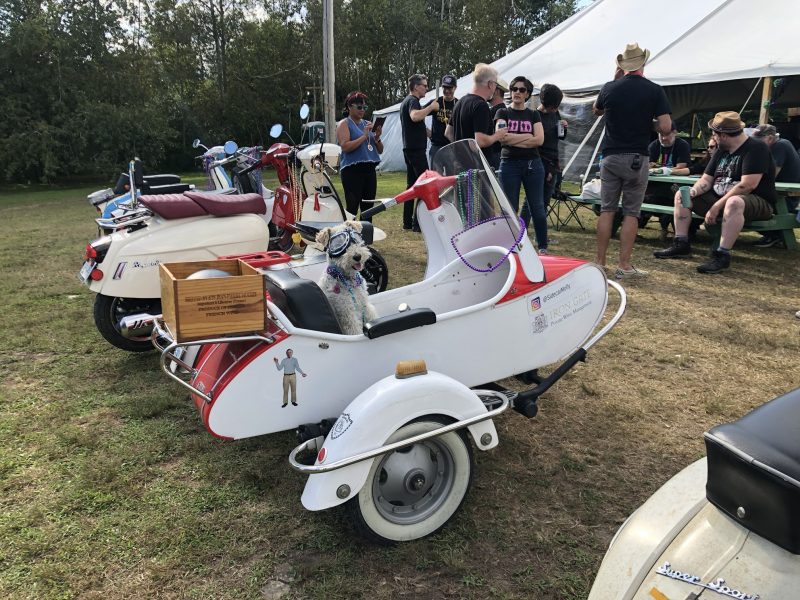 After a dinner of fried chicken and hurricanes (the cocktails), winners were announced, raffles were handed out, the bonfire was lit with the aid of questionable accelerants, and the dance floor was open.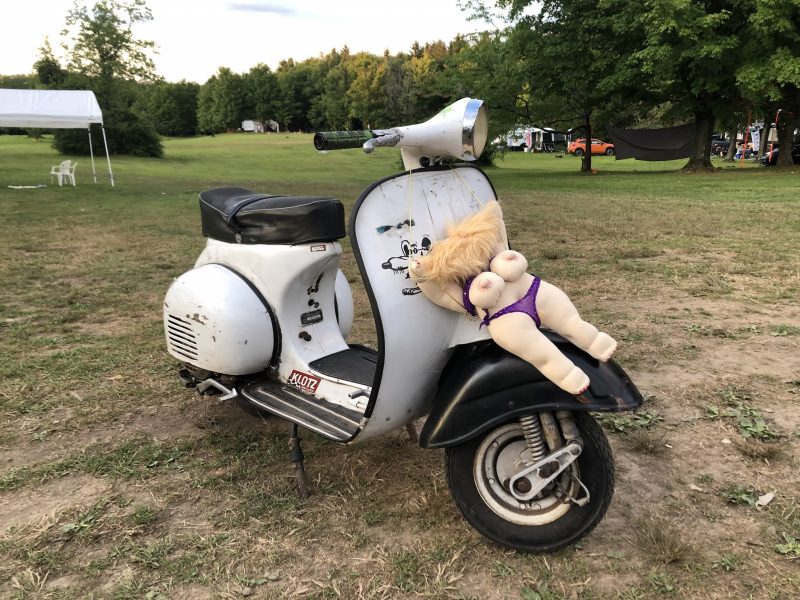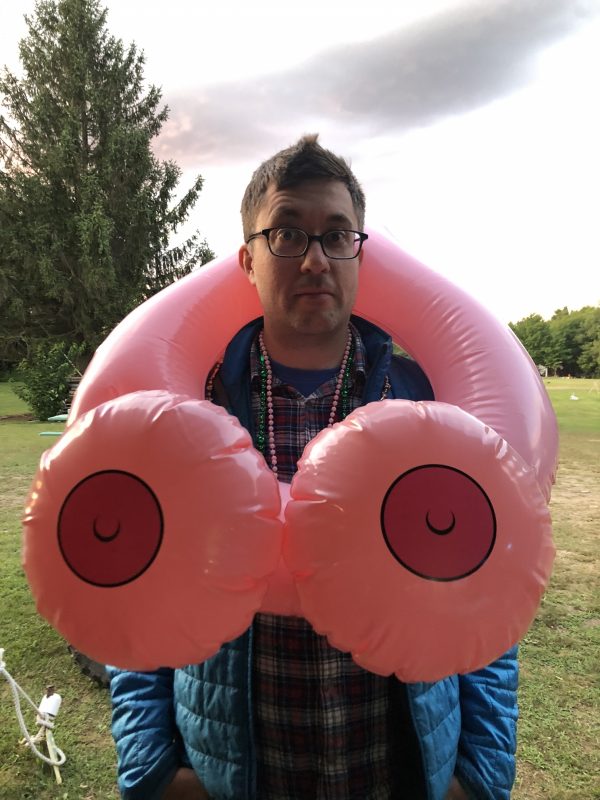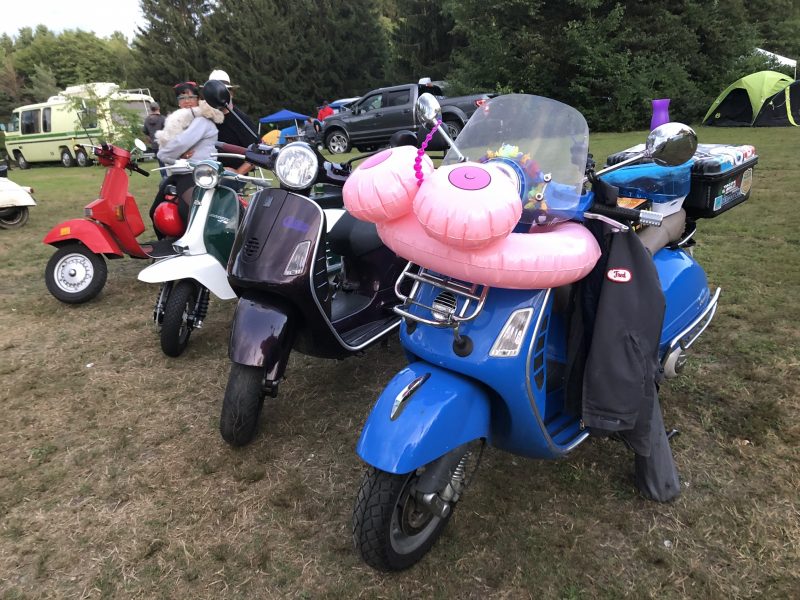 Dancing, burning of things, and strip poker happened, but I reserve those photos for future blackmail.
And that's a wrap. I was ecstatic to see so many friends for one last North American rally!
Sunday morning saw Fred and I back on the truck, headed for showers and a real bed just outside Toronto.