Serenity: Ready for Season 2
As you may have already gathered, Old Blue is up and running again! I want to say thank you again to everyone who chipped in for her rescue, but a few special thanks to:
I daresay Season 2 of Serenity wouldn't be possible without you guys.
Onward to the resurrection!
Mike sent a photo of old blue at his camp in Galbraith. She made it farther north than I did after all, and hung out there until Mike finished his job and hauled her to his home in Anchorage.

On August 8, 2017, through the power of uShip, Serenity arrived at the Ballard home of Tom and Gwynne (and Ollie and Cosbee).

After over 5 months of not seeing my bike, Denver James delivered her to Boston on November 12, 2017.

It was heart-wrenching to take in all the damage up close. This bike was — is home for me for years now, my one constant through ever changing landscapes. However, a closer look revealed much of the damage to be superficial.
Through the scooter network, Fred had already sourced a donor: a 2007 GTS 250 with ~4k on the odometer. Winter lay before us, and I had little else to do (read: under-unemployed). I studied Robot's videos on how to remove an engine, and his GTS overhaul part 1, part 2, part 3. Below are my notes from the process.

Nov 12, 2017
– Charged battery. Replaced stripped bolt on battery (dammit, Anchorage).
Nov 19, 2017
– Air in tires.
– Removed windscreen (scratched)
– Removed right mirror (smashed).
– Test ride to Harvard Square. Straightened headset and put in gas.
Nov 21, 2017
– Tore into donor.
– Knocked off as much Dalton as possible.
– Removed most crash bar pieces.
– Took off broken spoilers.
– Replaced seat latch dust cover.
– Seat bucket swap (hammered bend straight).
– Replaced bent brake levers with Bagel's shorties.

– Replaced entire headlamp unit (scratched to shit). Fred polished new one (only slight scuff).

– Taped peeled paint on headset with blue painters tape, replaced metal band (Anchorage again) with ziptie.

– Replaced left mirror (bent stem).

– Inspected temp sensor before realizing it's the wrong one.

Dec 6, 2017
– Polished the fuck out of the headlight with NOVUS 3-step kit, thanks Shannon!
– Continued tearing apart donor. Gas drained, floorboard out, seat off, rear rack off.
– Found correct temp sensor and set aside.
– Set aside intact left side trim.
– Prepped headset pieces for paint.
Dec 9, 2017 (first winter snow!)

– Removed broken spark plug on donor.
– Donor would not start, determined donor fuel injector was bad/clogged and swapped with Blue.
– Tested compression on donor, only 80 psi? I think Harbor Freight fail.
– Drained fluids and removed donor engine. Mileage: 4701.
– Stripped wiring harness off donor.
– Continued stripping donor.

Dec 10, 2017
– Dropped fork, set aside mudguard, finished stripping frame.
Dec 12, 2017
– Removed glovebox. Attempted repair of bag hook, but spring is toast. Just reinstalled without.
– Put washers back under gas bracket.
Dec 13, 2017
– Removed floorboard. Hammered out dents on right side of legshield and replaced trim.
– Removed footpegs and internal pieces of crash bars.
Dec 19, 2017
– Fished out stuff rattling around under floorboard, cleaned glovebox.
– Replaced ambient temp sensor.
Winter break in Hong Kong, Nepal, Thailand, and Singapore.
Jan 30, 2018
– Began polishing windscreen, it's a pain and I need 1600 grit.
– Cheapo Harbor Freight dent puller actually worked on the front dent!

Feb 6, 2018
– Began engine swap, 67,107 miles.
– Drained oil and coolant. Removed muffler and rear bracket for cleaning, removed rear brake assembly.
– Dropped T25 hex somewhere in bike.
Feb 10, 2018
– Disconnected all the things.
– Found T25.

Feb 11, 2018
– Finished buffing out scratches on windscreen.

Feb 15, 2018
– Finished removing engine.

– Replacement engine lined up for connection.

– Dropped fuel tank, waiting on dollies to bump out dent on right cowl.

Feb 16, 2018
– Banged out right side dent slightly.
– Inspected tear near footpegs. They are symmetrical and backed by subframe, decided not to weld.
– Replaced fuel tank and lines. Mudguard and taillight back in place.
– Replacement engine bolted in. Reconnected everything but intake manifold, coolant, and large hoses (out of hose clamps).
– Rear brake caliper in place, but it's grabbing. Will adjust tomorrow.
Feb 17, 2018
– Torqued rear shocks to spec.
– Reconnected coolant lines with hose clamps.
– Cables cleaned up under the seat.
– Reconnected intake manifold and coolant sensor with RTV silicone.
– Replaced rear brake caliper. Original pads were grabbing, so Fred put the brake pads from donor to match brake disc from donor.
– Replaced rear tire with original tire (donor tire has cracks).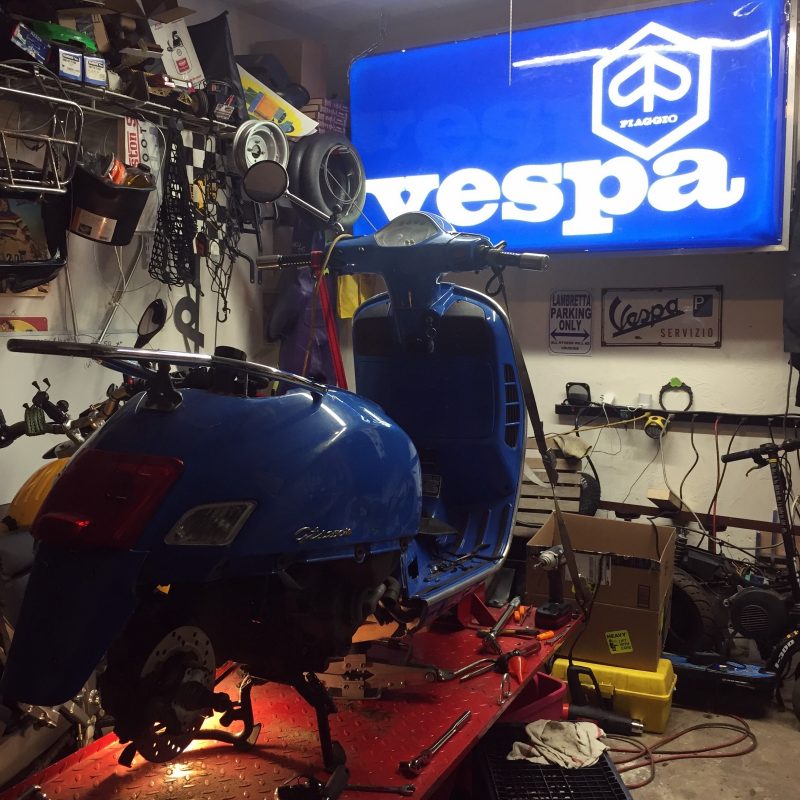 Feb 19, 2018
– Attached spark plug cap.
– Inspected CVT/belt, decided to use donor CVT and belt. Cover on.
– Air filter tightened down.
– Picked up overpriced exhaust gasket, Fred installed muffler.
– Added engine and gear hub oil.
– Flushed coolant and bled.

– Reinstalled battery.
– SHE RUNS!

April 11, 2018
– Plastic parts are in from the painter! Plus extra blue paint for touch up.

April 12, 2018
– Brushed anti-rust and blue paint on body.

April 13, 2018
– Swapped buttons over from old headset. Starter button is a bit broken.

April 16, 2018
– Removed front rack, disconnected brake line and speedo cable. Dropped fork and cleaned. Lubricated bearings.

– Replaced front mudguard, reconnected brake line and speedo. Replaced collar dust cover.

– Out of brake fluid, will restock and flush and bleed front brake later.
– Attached left and right spoilers, rear mudguard, floorboard end caps.

April 19, 2018
– E6000'ed some tiny dinosaurs and a lucky cat to my dash.

April 21, 2018
– Restocked brake fluid, flushed and bled front brake.
April 23, 2018
– Realized the reason the headset doesn't fit: throttle assembly on 07s are different from 09s. Dremeled off some plastic, headset still doesn't fit.

– Perhaps handlebars were slightly bent in crash? Replaced handlebars with donor, moved throttle assembly over. Headset on.

– Still waiting for new starter button, so it's dangling, but we're nearly there.
– Front rack back on.

May 1, 2018
– Felt like belt slip on ride. Need to address rattle from CVT.
May 7, 2018
– Replaced belt with old belt 4537 miles. Odo at 67241.
– Replaced rollers with flat spots with new ones (4701 + 67241 – 67107 = 4835 on old belt)
– Noticed ridge on variator.
– Noticed clutch-side bearing is loose.
– Cleaned oil out of bulbs on filter.
May 11-13, 2018
– Long distance test run to Whiskey Dick 7!
June 7, 2018
– Finally installed the footpegs.
June 8, 2018
– Replaced broken starter button, had to file down paint on headset otherwise the button won't depress and bike won't start.
June 9, 2018
– Took out old 12v charger, replaced with 2 USB ports. Much fance.

– Replaced broken bag hook with new aluminum one.

And that's about it for now!

She survived her run to the Poconos for Whiskey Dick 7 (after a new belt), alongside Fred's black GTS! This was great news, because we had plans for the summer…