End of a Bay Era. April 8 – 10, 2017.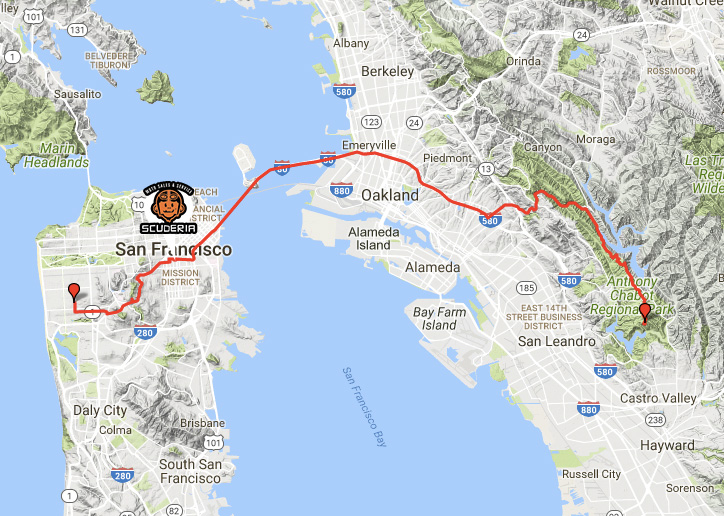 Often the best stories are forged in adversity, and by that measure this is not really a great story. It is, however, a story about good times. Pete had long wanted to gather a group of scooterists to camp out, and this would be his first… and possibly last in California, because he'd just accepted a position in New York.

He'd organized a group of Vespa folk to meet at Scuderia, ride over the Bay Bridge, and pitch our tents at the lovely Anthony Chabot Campground. With the morning thunderstorm, Pete was sure his efforts would implode, but Moose had the food ready to go, and once we were all on the road I led our party to camp without a hitch.

Pete had it in his mind that I could lead ambitious riders on a long ride around Morgan Territory, but I voted against it; with our late start due to morning storms and the Redwood Road road closure from landslides, what was already expected to be a 5-6 hour ride would take up to another hour, cutting it close to return by sundown. If I wasn't supposed to lead it, even I'd rather not go. Thankfully, we'd picked up an Oakland native, Emma, who volunteered to take antsy riders into town for an East Bay urban loop.
The rest of us?

Whew, ride duties shirked! Good work self-organizing, everyone!

To be fair I hadn't shirked all my duties. As per Pete's request, I'd premixed a signature cocktail for the event. The Whiskey Derbi (spin on a whiskey daisy, but refinement will be necessary because a Whiskey Derbi Manhattan would be a better name for a cocktail than a discontinued 2 stroke 49cc scooter) flowed freely at camp, along with plenty of other libations, snacks, and once riders had returned, dinner.

I admit, I started early with the premix. By the time everyone had gathered around the campfire, I was already pretty toasty, inside and out. I may have collapsed in my tent, wet from horsing around in the grass, and quite happily drunk.

And thus, a great weekend came to pass. It was time for the inevitable job of clean up, and split off to take showers and nurse hangovers at home. Moose had made a reservation for a special restorative treat for us, to make sure we patted ourselves on the back (and stomachs) enough. That evening, Pete and I parked our GTSes in front of Onsen, where his buddy Alex worked.

Mountains of perfectly grilled and seasoned skewers were heaped before us, and consumed far too quickly for photographic evidence – I only barely snapped one of our dessert, which I'm pretty sure is a dish hailing from Lothlorien. Thoroughly glutted, we proceeded to the bathhouse portion to soak out any remaining alcohol in our systems. Onsen is my kind of heaven in the Loin.

On my last day in San Francisco, we got together to do all those things that were always there, but you never step outside of routine to do. We loaded up with sandwiches from Guerra Quality Meats, a deli I always passed on my way back from work but was closed by then, and headed up to Corona Heights Park, a grassy peak along my favorite route to Scuderia that I never stopped to explore.

For two months, this was more or less my regular view on my commute to work. I was going to miss this city a lot.

Pete was moving to New York at the end of the month. Luce would return to LA. I had a flight to Boston to catch, then return to take my bike from San Francisco for the indefinite future. Only Moose was left in the city. For the last couple years and especially the last few months, we were a perfect storm of Vespas and riders and adventure. With all of us going to different places, who knows when we could gather like this again.
Belly full of meatball sub and sentimentality, it was off to the airport.