Gear Talk: It's Cold Out There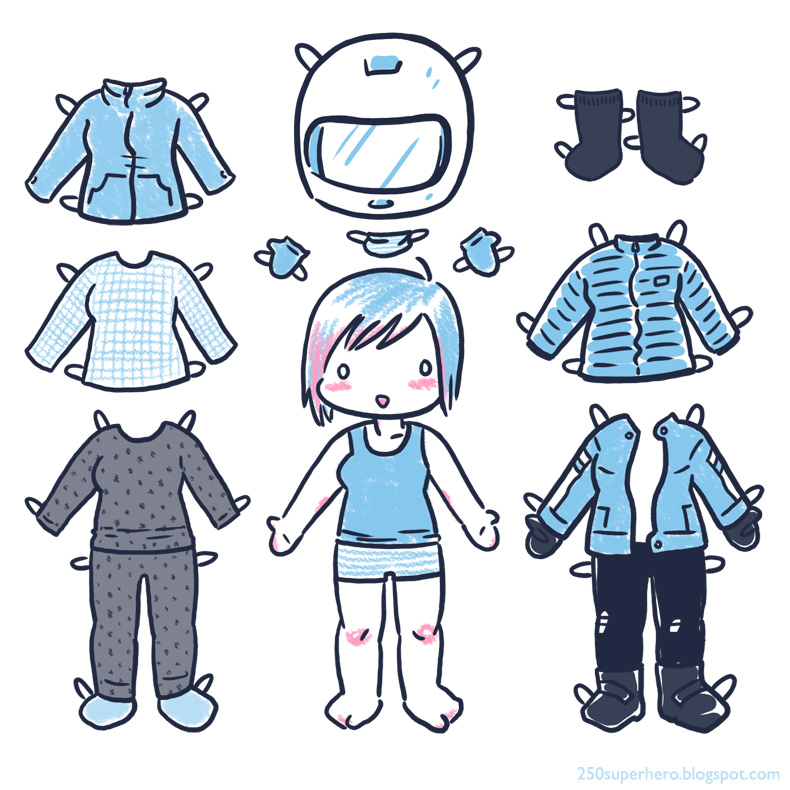 It's still January which means most places are chilly for riding, but I had a good discussion of cold weather gear that I'd like to collect here. Much of this is from personal experience, trying out gear for riding through New England winters, in addition to living on my bike. Thus, economy of space, durability, versatility, and comfort of movement are all important to me. For the sake of discussion I'm leaving out heated riding gear – I want to focus on items that bridge the biker-pedestrian gap, and electrics can be its own post.
Anyhow, there's such a wealth of options, I'm always curious what others find works for them. Perhaps you prefer natural fibers, or all synthetic – I say wear both!
So, let's revive the Gear Talk posts and talk cold weather riding gear. Read on for my top picks!

Most Indispensable and Best Warmth-to-Weight:
100% silk base layers. One of my favorite mustachioed motorcyclists introduced silks to me. I can still hear his chipper voice over Sena, as temps dropped inverse to altitude and rain clouds released their bounty past Lake Hughes in October, "Have you run out of your fun meter yet? I'll be fine, I have my silk base layers on." It was the only night I've ever made an unplanned check-in to a motel. I never left my silks behind after.
There's really no reason to, either. They pack so small and weigh hardly more than the elastic waistband holding them together, it's like they take up negative space. They're naturally anti-microbial, and feel soft against the skin. They put up with the abuse of constant washing, and in spite of their resemblance to a delicate pantyhose they'll last a long time if you always hang dry. Even if they develop a run, they work just as well and no one sees because they're always layered underneath. It's witchcraft, I tell you, and I have'em tops, bottoms, sock liners, and glove liners.

Although silk requires hang drying and is not quite as quick drying as synthetics (I've heard polypropylene is a popular choice for base layers, but don't have as much experience with it…yet!), they're so lightweight I've always found them dry the morning after washing.
On a product specific note, I prefer the 100% silk top from Terramar, but for bottoms I like the ones from REI. For whatever reason, Terramar's pants just didn't agree with my butt, and REI's feels sturdier against my derrière.

Best Warmth-to-Space:
Okay, so this is basically winning at the same things as above, but the Patagonia nano puff jacket is that notable. I'm indubitably grateful to Fred's sister for this gift, which has the weight of a cloud and compresses to the point you forget it's even in your bag (it packs into its own zippered pocket!). Where silks require forethought in the dressing stage, the puff jacket can be thrown on or taken off with temperature fluctuations – think altitude changes and microclimates. This miraculous garment is also warm when wet, and dries quickly.
I like mine as an outer layer around town, or layered under my riding jacket. Also, if you can't already tell I like black (a classic color/absence of color, and gaffer tape repairs will be almost invisible!), but it comes in some great pops of colors as well.

Best Warmth-to-Style-and-Versatility:
All things 100% merino hoody. Another naturally anti-microbial material, it doesn't pack as small but it's worth its weight in stink-proof gold. Merino also retains much of its insulating properties when wet, making it a great layer if you're stuck at a damp campsite.
However, its most winning quality is not merely function, which is already exceptional, but form – everyone and their nephew designs a cool merino hoody. Smartwool, Icebreaker, IBEX…whatever your style you'll be spoiled for options in colors, collar styles, zippers, pockets, thumbholes, fabric weight, etc. You don't have to wear the funny looking detachable liner that comes with your riding jacket out, you could wear a layer that looks normal on its own!

Pete and the Post Mods happened to have gifted me a beautiful hoody by Triple Aught Design, a business local to San Francisco. In cooler climes I find myself living in this as a sweater for days on end. It's become as much of a signature item for me as my leather jacket, and in its the third winter it still rises courageously to the season.

A quality garment carries a steeper price tag, but I'm willing to bet it'll last longer than it'll stay in style. Really though, quality doesn't go out of style, am I right?

Note, although I love thumbholes, they're for cozying up to the fire or other acts of cozying, notriding. They make pressure points against the handlebars.
I would like to point out that I'd pick merino for mid-layering as opposed to base-layering. Layers that are kept next to the skin need more frequent washing, which in turn means items need to withstand frequent laundering (when you live with roughly a backpack's worth of clothing, it feels like much your time off the bike is spent at the laundromat). I find that once-fine base layers and socks made of merino tend to wear out too quickly for their price, even when fastidiously line dried. This happens to bring use to my next pick…

Best Warmth-to-Price-and-Durability:
As a budget traveler, I belong to Uniqlo HeatTech. The label on this mystical Japanese technology claims it's made of polyester, acrylic, rayon, and spandex, but it's more than the sum of its parts. Wear it as a base layer under merino, a mid layer over silk, even layer it over itself – HeatTech long sleeve over a HeatTech camisole, I dare to do it! Layer this shit under, over, and between everything! It's soft and stretchy, somewhere between mid and light weight, and even suffers an accidental toss in the dryer well. I cannot profess my love enough.

Now I see that Uniqlo makes an Extra Warm HeatTech and an Ultra Warm HeatTech?! I'm behind on the product line, I demand a report!

Best Accessory
A neck gaiter, snood, or whatever you call the tube of fabric for your neck used to lock out wind between your collar and helmet without having to jam scarf ends into a jacket every time you zip up, is crucial for comfort. Cotton is useless for warmth, and I've found fleece or micro-fleece to be bulky and trap too much moisture for something kept around your face. A merino or merino-blend gaiter is the perfect balance of weight and breathability (I happen to have Patagonia's midweight merino neck gaiter, I swear I'm not a Patagonia rep these are mostly Christmas gifts, thank you!). Buff also has a mind-boggling wealth of options, which many friends approve of.
Balaclavas are also an option that will tuck into a helmet, I just find it always tends to bunch. On a related note, Corazzo makes an 'under hoody' that basically has a sleek, built in balaclava. It's an excellent and comfortable mid-weight garment, though too uni-purpose for me – it looks a bit awkward off the bike, and what a missed opportunity for a cozy kangaroo pocket! Perhaps it was intended as a base layer, but sits too far off my skin to maintain warmth without another layer. Your mileage may vary.
While in Duluth for Lammy Jammy 2016, I noticed the Duluth Trading Co had a cooling version of a neck gaiter I would love to try. But now we're getting off topic.
Honorable Mention for Durability, Versatility, and Overall Qualities
An honorable mention for Patagonia's Capilene midweight crew and bottoms: comfortable with just enough stretch, versatile to be worn as a layer or on its own, survives washing machine abuse well, and repels stink. Your fitting may vary, but I found it to have an ideal length in both body, sleeves, and legs, never bunching or catching. They have a little more room than HeatTech, making it less compression-like if you must layer layers on layers. I must stress the anti-stink; I've worn this shirt as a base layer 4 days in a row, and only finally tossed it in the laundry because I felt I should, not because it was odorous.
Honorable Mention for Cozy Comfort
Smartwool mid-weight tights. If I have the luxury of a skirt, these are convincing enough to double as leggings. Otherwise, this is my go-to for layering under armored waterproof riding pants, sleeping in cold weather, or lounging around the hostel (yes, I lounge in long underwear, the world is my livingroom!).

Some people are a fan of wool flannel, but while I like the coziness and the look, I dislike the lack of stretch. I found that having a size large enough to allow freedom of movement, especially the arms forward riding position, means that it's so big it bunches uncomfortably beneath my outer layers. This could be a problem specific to my frame (ladies cuts not accommodating broader shoulders, mens cuts being too large). Perhaps flannel is an option for a mildly cold day, which doesn't require layering up like the Michelin man. I'm accepting donations of wool flannel for test purposes (hah)!

In summary…
I haven't sorted items by base, mid, or outer layers, so what does this all mean when you put it together? Here are a few ways I may dress, from inside out:
Top: HeatTech camisole → Terramar silk long sleeve top → Patagonia Capilene midweight crew → Patagonia nano puff jacket → leather riding jacket. For very cold, layer merino hoody under the puff jacket. (5-6 frikkin' layers! That's hot!)

Top Alternate: HeatTech camisole → HeatTech long sleeve → merino hoody → leather riding jacket. Carry nano puff just in case. (4-5 layers)

Bottom: REI silk long underwear → Gogo Gear Kevlar leggings which are double knit and withstand cold well. With a Tucano Urbano Termoscud R154 leg cover I skip the silk leggings. (1-2 layers)

Bottom Alternate: REI silk long underwear → Smartwool tights → Waterproof armored riding pants. (3 layers)

Hands: Silk glove liners → daily gloves or Gerbings G3 heated gloves (dammit, I said I wouldn't get into electrics, but this is the only one I use and they're warm even without power!) (2 layers)

Feet: Daily socks → silk sock liners → waterproof boots. (3 layers)

Face: Merino neck gaiter → helmet. Re: Pinlock system, it's fantastic at first but always fails sooner than I like, so I'll just crack the visor to de-fog. (1-ish layer? Who's still counting?)
Mix and match depending on the weather you're expecting! For reference, here's an animation of how I would layer for the coldest days:

Hopefully some of this information is helpful, but ultimately…
I'm ready for some warmer riding weather!