Unofficial Modern Vespa Blogger Touring Summit of White Springs, FL. December 9-11, 2015.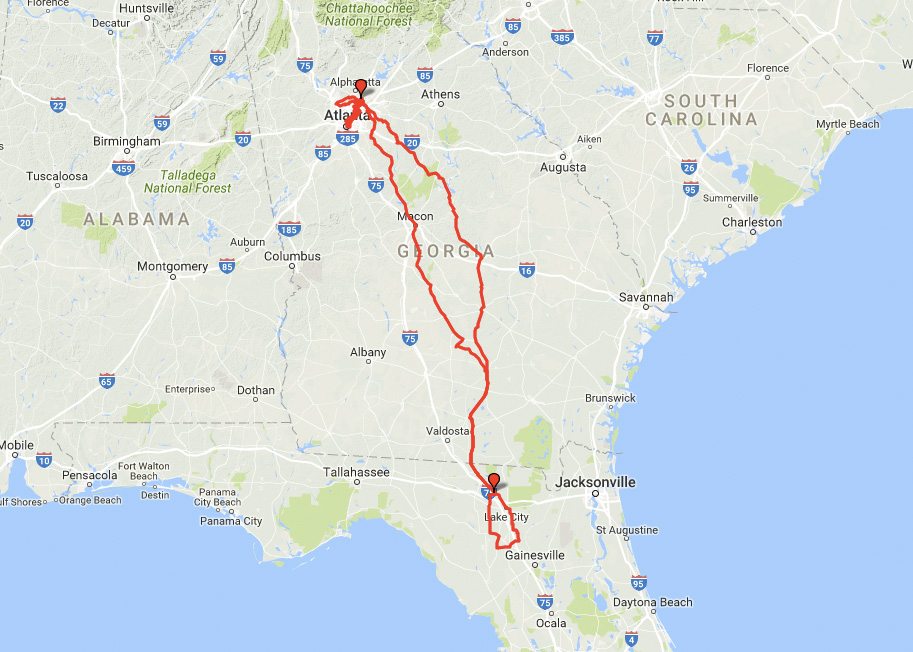 Things had been quiet since I landed in Atlanta in November. In my experience, it can take up to a couple weeks for the fernweh beast to start making noise again. Luckily, if I could hold out a little longer, a December trip to Florida was falling into place.

The greatest rewards in travel are so often intangible, but I like seeing chunks of tracks together. It makes me feel like I'm getting somewhere, though counting miles and plotting tracks isn't so much an accomplishment on its own so much as it helps trigger memories and fill in between the lines on a map.

Back in July, life circumstances arranged themselves such that when I passed through the Adirondacks, David Masse gave me Jim's tour after they had road tripped together (see David's post here). This December, Jim was volunteering as a blacksmith at Stephen Foster Folk Culture Center State Park, in White Springs, FL. He and his wife, Grace, were staying in their Airstream, but Jim arranged a cabin for a get-together of long haul Vespa riders. In addition to finally meeting Jim, you might recognize Ken (Lostboater) and Bill (Rocket & Me). It's quite the list of modern Vespa tourers and bloggers.
I packed my bags for 2 nights (so small, what luxury) and turned my heated gloves on high to beat the 3 C morning chill. An early wrong turn surprised me with a hit of nostalgia; I stumbled upon Stone Mountain, the first mountain I ever laid eyes on as a rugrat, possibly on my first ever trip outside the city. It's a modest geological formation by other standards, but I remembered kiddie-me in awe of seeing something so massive rise out of the ground.
By Macon, temperatures climbed to 12-15 C, and at our designated meeting spot of Douglas Municipal Airport the ambient air had warmed to a stunning 25 C. I thought I would never feel t-shirt weather again! Pro tip from Ken: you can often find free hot coffee and a restroom at small airports.

Gliding down the flat, straight highways of Florida in a Vespa pack transformed what could have been a dull ride into a gleeful experience. One of the hilarious moments for me was when we all stopped to wait for a turn. At least three of the bikes were beeping, like a little chorus, and at slightly different tones. We had all installed the same turn signal beeper modification!

We had just enough time to settle at the cabin – which, with its two bedrooms, electricity, comfortable shower, and fireplace exceeds all my expectations when I hear the phrase 'cabin by the river' – before it was time for a seafood dinner. To digest, we explored Stephen Foster's winter village with some popcorn and hot chocolate. I'm still marveling that it's comfortable to be outdoors at this time of year.

Back at the cabin, we chatted by a warm fire. I practiced some ukulele on the guys and attempted the thematically appropriate Suwannee River song, but I actually don't know it very well (apparently it goes like this).

It was all so brief! Check out Bill's post about the trip on Rocket & Me.
It was great getting to know the guys, and a bit funny when Bill refers to "four dinosaurs and a Steph." I suppose there are few people my age who can/are willing to take the kind of time away from career development that's essential to extended travel. I was brought up to prioritize career, but if anything has come from slow, open ended travel, perhaps it's an expanded understanding of the nature of work or its role in creating a meaningful existence.
Speaking of slow, I'd be sticking around for another night.

I had 300+ miles to ride back to Atlanta, but I was prepared with my throttle lock and a good playlist. On long, empty, straight stretches I would sometimes take my hands off and steer with weight, when I realized I'd listened to at least 3 songs without touching the handlebars. That's about 10 miles of hands free operation. I didn't know I found a self driving scoot.
Back to thermal layers, colder temps, work, and ibuprofen for now. See you on the jiu-jitsu mats.