Plan: Serenity Reawakens!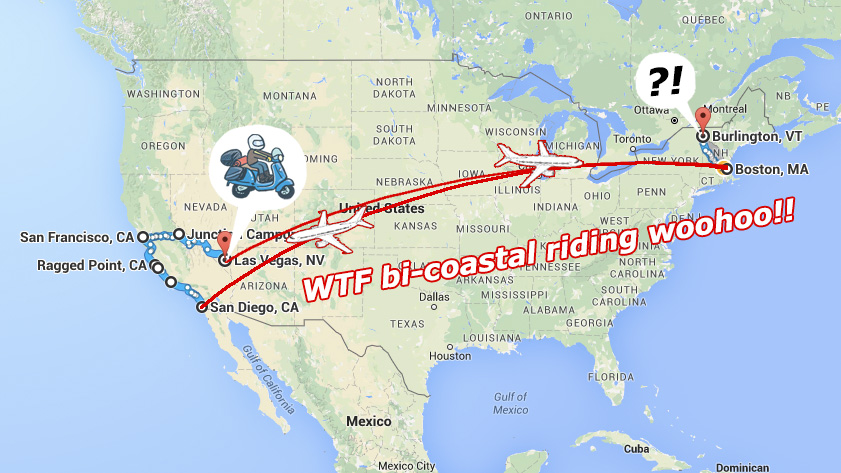 After the accident, I was feeling pretty down. I was in quite a bit of physical pain, and had legal followup to take care of. My freshly assembled PX lovechild was fucked, and along with it my spring riding plans (Furthest Ridden at Dogwood Classic 13 was going to be mine! At least I got to ride an epic 283 miles CORSette with Fred). What is life without a bike? Going from being highly independent and mobile to being beholden to the schedules of other people, buses, and trains was not to my taste. After some court dallying back in Atlanta, I flew to Boston to burrow myself at Fred's for the indefinite future. I had paying work to take care of anyway.
I resigned myself to just getting used to feeling a bit lost and numb, when I got an email from Danni. She was asking if I would join the team for another Gudetama activation, San Diego Comic Con this time. A spark flickered. How will I arrange it? Can I get Serenity there? I texted my go-to folks in SF, Pete and Moose, to bounce some ideas around and responded shortly after. The spark had caught. Yes, sign me up!
When I broke the news to Fred, he mentioned he would be in Vegas for a convention around the same time. "I usually have a whole room to myself, want to join me?" Double yes!
The last piece of the puzzle was the BGL agency retreat, which would be held in Burlington, VT this year. A scant 219 miles from Fred's, I had intended to arrive by bike. A quick check on the calendar confirmed that I could fly back to Boston in time to ride for the retreat. By then, the Rally 200 might be assembled, or the PX would be repaired…
The fire was back. July and August will be ablaze again for me. Here's where you might find me:
Pre-Stage: Cambridge, MA/San Diego, CA
June/July: Cambridge, MA. Moose trucks Serenity to his buddy's place in San Diego, please send him fine booze. I work on work, and bikes.
July 13-18: Duluth, MN, getting to and from Lammy Jammy with Fred.
July 19: Cambridge, MA, one night to rest.
**Fly to San Diego!**
Stage 1: San Diego, CA → San Francisco, CA

July 20-24: San Diego, CA, arriving by the power of flight for another round of Team Gudetama.
July 25: Surprise stay in El Monte, CA, family home of Moose.
July 26: San Simeon Creek Campground. Dodging wildfires.
July 27-Aug 1: San Francisco, CA. Hello, Pete! Group ride with Post Mods on May 31.
**Serenity is stored again in San Francisco**
Stage 2: Las Vegas, NV
Aug 2: Yosemite National Park, camping. Cancelled due to heat wave and wildfires.
Aug 3-5: Las Vegas, NV, with Fred.
**August 6th, Fred and I catch the redeye to Boston**
Bonus Stage: New England
Aug 7-8: Cambridge, MA.
Aug 9: VT/NH border, camping with mystery bike. Fred's GL, PX is still not together.
Aug 10-12: Burlington, VT, at BGL agency retreat.
Aug 13: Thompson, CT, for 24 Hours of LeMons.
Aug 14-18: Cambridge, MA, back at Fred's.
Aug 19-21: Uxbridge, MA, for the New England Rally.
Aug 22-??: Cambridge, MA.
I have a November book deadline that may keep me from extended overland travel for a while (plus, I need time to cook up new plans), but you know I'd never be able to leave Serenity alone for long.