Las Vegas High Rollers Rally. Feb 25 – Mar 4, 2015.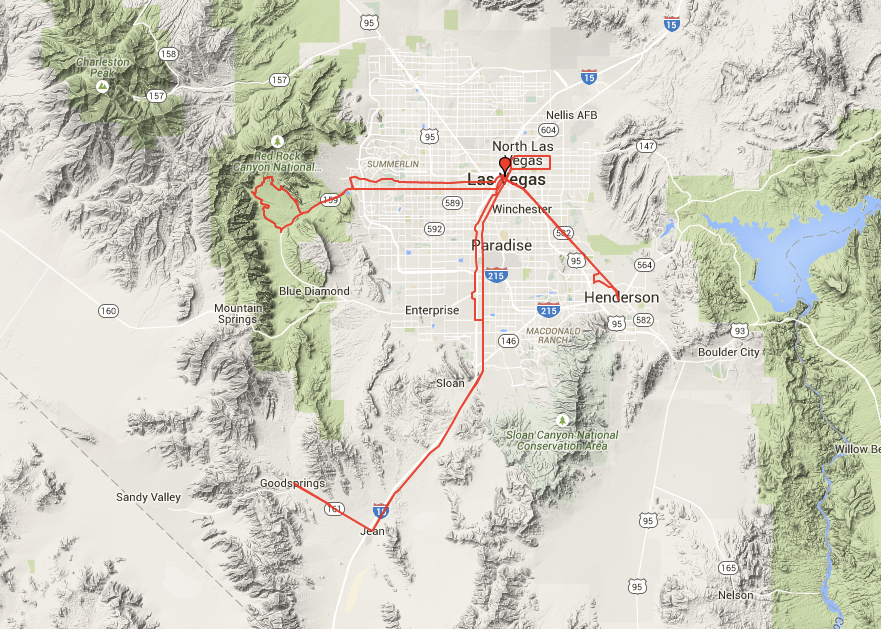 Anyone expecting thoughtful travel insight in this post will be sorely disappointed. It's rally time!
I don't know if I'll ever get used to the transition from the quiet isolation of the desert to the chaos of Las Vegas. I checked into the Downtown Grand with little fanfare (yep, I booked a hotel for the first time ever on this trip, with the LVHR rate!), but that wouldn't last long. A handful of Bostonians would be uncrating their bikes soon, and Kyle (my repeat roommate from Whiskey Dick III) checked in moments later. Wasting no time, we rode to his favorite spot, Frankie's Tiki Room. Maybe it was the repeated doses of mid-century American-filtered-Polynesian magic, but everything else that night was a happy blur. East coast scooter friends I hadn't seen in nearly a year were landing. They were picking up scooters that escaped the northeastern tundra, and joining the growing herd in the High Rollers lot. Hugs and hellos were frequent in the lobby and on the streets surrounding the hotel. I was so pleased I didn't take any photos at all.

It's hard to tell, but the above photos covered three days in Vegas. The High Rollers rally is an epic five day long rally. Fellow rally goers were looking increasingly haggard in the mornings, some even admitted to being tired on Saturday.
As a sidenote, I suspect this is how I ended up with Paul B's keys one morning when I expressed an interest in riding a Lammy. I quote, "Take her for a spin. I'm still drunk anyhow." Paul C and Aaron scooted around town with me and I just want to say, what a blast! If only I had a garage again…
Anyway, I was glad Las Vegas wasn't news to me now, and feeling smug for the evenings I spent in. I privately luxuriated in the soft, clean sheets, immediacy of running water filling a shiny bathtub, fluffy white towels, and wifi. Vegas is about overindulgence, but I suspect my idea of a party at the time wasn't quite the same as most of the rallygoers. For me, my clothes were not in a bag but in the closet, and the cool sheets over an expansive bed felt lovely against skin. Friends were near, just a text away, and would be for days and nights yet. It wasn't until I had my fill of all that feeling… that I finally ventured out for $4 cocktail shrimp or midnight patty melts (oh, Du-par's). In the spirit of overindulgence, I may have overdone it a little too (the Downtown Cocktail Room is so damn good), but it would be the Sunday ride that would really get me.
On Sunday, Kyle, Paul B, and I got away from the core of sin city to explore the Mexican flea market.

The skies were overcast for the Red Rock Canyon group ride, but I do love that loop. I should have known I could never escape a rally without being frozen, rained on, or both.

So. It rained on us the whole ride back into town. My temp gauge dropped down to 5 C. I'd left my rain gear at the hotel, and I'm pretty sure Kyle's packing style favors bowling shoes and shirt garters over rain gear (but he looks so good). I was shaking uncontrollably and a bit loopy with cold and hunger when we arrived at the Arts Factory. Kyle, in a completely porous jacket, was just as cold and miserably soaked through. He did his best to warm up both of us…by spiriting forth an irresistible selection of bourbon from next door Bar+Bistro while we waited on small plates to arrive. In normal situations, this combination would already be daring…

…But this was Vegas. This was just the start. We were cold and buzzed, and bailed on the raffle and other rally festivities in the pursuit of hot showers and dry clothes at the hotel. I believe they're called 'disco naps', a pre-emptive strike on sleep debt when you know it's going to be a late one. An hour or so later, body temperature may have returned to normal but the loopiness wasn't shaken. The final rally sendoff was at Triple B. One last band, more dancing, picking out faces of those remaining in the crowd. Drunken banter, happy faces, low batteries, neon lights, missed connections, more bars. I spotted Rob from the last time I was in town, and nerded out over Hong Kong type things with Paul. I don't recall if I made it back to the room first, or Kyle. The world was warm again, and a happy, albeit spinny place.

What I was saying about being smug at not being hungover? The bone chilling ride, the bourbon, and subsequent libations poured on top of it in attempt to numb the numbness… I was less than fresh at breakfast with Woody and Kyle. Las Vegas took on an extra surreal glare over my meek buffet selection: as much fresh fruit as would fit on a plate and some eggs. And ibuprofen washed down with bottomless black coffee.

The Boston Stranglers were crating their bikes to be shipped out, and heading to the airport for red eye flights home (many of which would end up delayed by a massive winter storm system, whoops). I took advantage of the wind-down to do some scooter (and self) maintenance.

I wasn't leaving until Wednesday, but it would be Kyle that was the last man standing. He'd picked up a cheap skateboard to get around town until his flight. After checkout, I packed my scooter downstairs for goodbye. I gave him one more hug, and he skated off for one more massage at the Nugget. It was nearly a year since I saw him last, and I don't know when I'll see him next…but I know when I do, it will be awesome.
Rallies are about bikes, and rides, and quite a bit of partying. But, all corniness aside, what keeps me coming back to rallies are the people.