New Orleans and Amerivespa, June 9-16, 2014.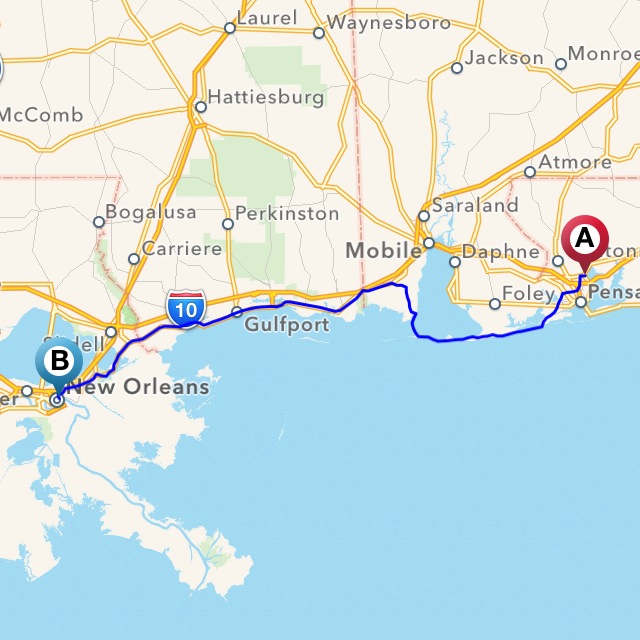 The one on the right tracks the Amerivespa long ride, around 150 miles.
Destination: New Orleans. Target: Amerivespa. I liked the gulf coast of Florida, but I was riding with a goal. The Big Apple was a familiar comfort, now I wanted to explore the neon-lit nighttime streets of the Big Easy, all new to me.
I woke refreshed and relaxed, and charted a route to NOLA via the Mobile Bay Ferry. I love two things about this: old forts and a ferry ride. For $8 (moto and rider), the ferry connects Fort Morgan on Mobile Point, to Fort Gaines on Dauphin Island, with about a 35 minute ride.
With much anticipation, I'd booked with an AirBnb host for a week, but she wouldn't be home to let me in for a few hours yet. Obviously, the correct course of action was to kill time in the French Quarters with a drink.
Someone had recommended me to Lafitte's Blacksmith Shop. Built between 1722-1732, it's reputed to be the oldest bar still in operation in the United States. It seemed a likely enough place, and already hopping at 5pm. A piano lurked modestly in a corner, but I was told legends have touched its keys. At the bar, a frightening purple substance labeled "Voodoo Juice" was churning away in slushy machines, so I thought I was being smart by going with the bartender's choice of a hurricane ("Four different fresh juices, daily"). I forgot about the Everclear float on top, which she did not scrimp on at all.
Crash course the first in New Orleans: there's no such thing as a weak, or even mild, drink. So it was with a solid buzz I finally tore myself from conversation and rolled into my AirBnb in the Tremé neighborhood. As it turned out, my host, Amy, was not only exceptionally accommodating as I waddled in with all my gear, but invited me to join her at Cafe Instanbul for a collaborative live musical type performance.
Crash course the second in New Orleans: there is no such thing as bad live music, and live music is everywhere. It's like you have to pass a musical or creative aptitude test before you're allowed to establish residency in this city. Or work at a bar. Which Amy did here sometimes, and kept my cup full (back to Crash course the first, generosity with drinks).
I had a fantastic first night in New Orleans. So fantastic, that I had to make up for it the next day.
Short story, with a grumpy glance at the rain, I'd made an appointment at the Apple store because my phone seemed to have died. I saw an exceptionally torn up piece of road ahead that stretched across the lane, couldn't find a way around with traffic, and slowed in anticipation to hit it straight on at around 5-10mph…but the scoot bounced out from underneath me, and landed on my right foot. There were actually several moments of air-time between my butt and the seat before the CRUNCH, that's how rough this was. I already knew the Vespa is shit in rain and ride more cautiously to compensate (the only times this bike has gone down has been in rain), but I got unlucky. My guess is it was a combination of lack of weight for traction (I'd removed my saddlebags and other bags the day before, happy to be here an entire week) and the slick painted turning-lane-only arrow between the missing asphalt.
In the span of 24 hours in New Orleans, I managed to become the proud owner of a dead phone, a sprained ankle, and a hangover. Waste no time, that's what I say.
What next… I put my bike on its center stand with a throbbing ankle to the backdrop of honking cars, gathered my scattered belongings from the road, and silently rode off to a covered place to find a pharmacy and check my foot. With my history in martial arts I'm no stranger to injury, and nothing seemed broken. Just a bad sprain (won't need to amputate, bwahaha). I continued to the Apple store where they determined my phone was fine, too. Waited out the rain, found a pharmacy, wrapped my foot, took ibuprofen, and went home to ice and elevate.
I admit, I was cursing my independent nature a bit. I wouldn't have complained if someone had been with me to help stomp on that center stand – it took two tries with my bad foot. I love the freedom of solo travel, but it's exponentially more difficult when you're compromised and in unfamiliar territory.
But crash course the third in New Orleans: People are really friendly. Amy also works as a massage therapist, and not only had an ice pack in the freezer, she also brought back arnica in gel and pill form for me. Restricted to the apartment, I got quite a bit of work finished. The next day, I hobbled to the grocery store, and ended up sharing breakfast with a new friend, Anthony. He liked my story, and offered to take me to lunch and walk around the city a bit. Foot be damned, I took some extra ibuprofen and gave him a call.
Final crash course, and I'll stop using this trope: There is no such thing as un-tasty food around here. Not a single meal I feasted upon during my stay was anything less than a spectacular tastebud party. If I lived here, I wouldn't worry about traction in the rain anymore because I'd immediately put on 40 pounds. My rainy ride was premature.
Anthony was an incredibly kind host, but had to return to work, as did I. We said goodbyes, and I did some reading to the musical stylings of his friend, Millard, who happened to be playing at a nearby open air cafe.
I was glad to be able to explore at my own pace for a bit though, because soon it would be time. Time…for the scooters to descend.
Part of my eagerness to get to New Orleans was because I knew Mike and John from Atlanta would be there, and Davide from Dogwood Classic. On a trip full of new people and places, it would be a welcome change to spend time with familiar faces!
The other reason for going on Amerivespa's long ride was to welcome in the riders for the Scooter Cannonball. This year the route was from Hyder, AK to New Orleans, LA. I was feeling pretty sane by comparison, cooling off with beer at Abita Springs Brew Pub as the real crazies rolled in.
Note: not all the bikes were ratty (mostly modern, actually), I just happen to like a nice patina.
Bonus: between John, who had been to NOLA plenty, and Richie, a BMW rider I befriended at the Apple store on that otherwise disastrous day, our little group had plenty of local intel for food, drink, music, and hang out spots. Not that nobody was sharing – sometimes my northeastern sensibility would kick in with suspicion, but people on the whole have been generous with hospitality and embody a refreshing, laid-back ease. Also, I suppose I could list every bar and restaurant we stopped by, and post foodporn close-ups, but really… let's just leave it at everything is delicious around here.
Remember Randy, from Fort Myers Beach? It turns out his brother, Hank, was working in New Orleans on Terminator 5, serendipity would have it, as a stunt coordinator. A stunt coordinator. He invited me on set, and with a bit of security clearance wrangling, I was headed for the NASA Michoud Assembly Facility. Hang on, let me rephrase that: stars aligned and rays of light shone down upon my blue scooter.
The clearance was required to go on NASA grounds. Why NASA? The tall, empty warehouses on the facility were great for renting out for movie sets. I couldn't take photos inside, but it was a dream to see a Hollywood set in action and hang out in the stunt training hall. Cursed sprained ankle, they had a huge springboard floor and were throwing punches and kicks! Also, what a fantastic amount of effort and coordination goes into making movie magic.
Alas, I had to let Hank get back to work (can I stay? Maybe I'll come back?). Guess it's back to scooters!
I know, I know. Bourbon Street, how sophomoric. It reeks of decades worth of sour beer, vomit, and who knows what other bodily fluids. But I couldn't leave without going at least once. Honestly, I'm not even into the more raunchy options available, but I love that it exists. My heart is happy knowing there's a place that embraces senseless debauchery every day of the week, where otherwise questionable behavior is the norm. This is a fantastic, topsy-turvy street, and I see why other streets are compared to it.
One of our party dropped their Mardi Gras beads and bent to pick it up, before a wise member of the group stopped her, "No! Bourbon Street has them now."
There was something about raffles and vendors on Sunday, but the rally was pretty much ended.
Among the damage from the fall in the rain, New Orleans took a horn button (wtf, how?) and a front reflector. Before leaving, I found a replacement reflector at the French Market.