Florida Part 1, To The Keys! May 31 – June 3, 2014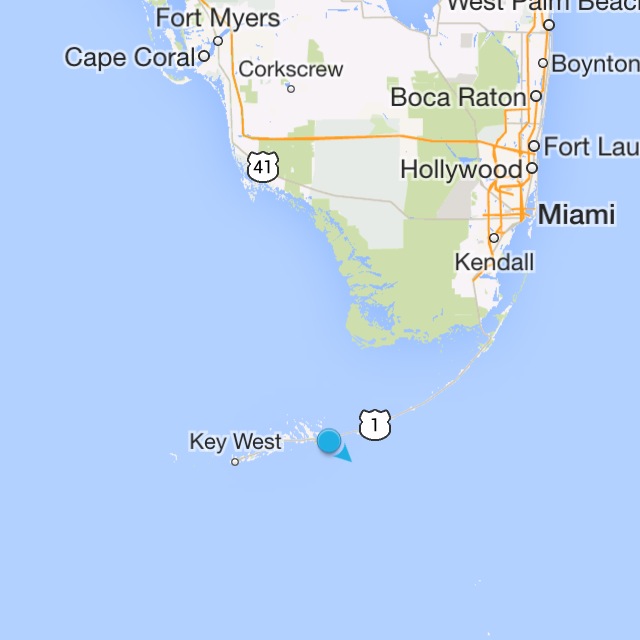 I forgot to screencap my map at Key West, it was so rainy.
After recouping in the safety and comfort of friends, new and old, in Atlanta, it was time to continue adventuring again. My sights were set on a big state, Florida, and admittedly I wasn't sure I was amped up enough. I seemed doomed to bad weather the closer I got to Key West, and I found myself wondering, "Why did I leave Atlanta? It wasn't that hot there, and I could spend the summer drawing in Korean coffee shops with Wai, getting to know the Terminal scooterists better, and taking day trips to NC and TN to ride around the mountains, or go to the coast…"
But I'm getting ahead of myself.
Wai was off for the summer, so she drove with me as far as Athens, her old school stomping grounds. We had an excellent brunch at her college favorite, The Grit, and wandered into such college town establishments as Bizarro-Wuxtry and Junkmans Daughters Brother. A big hug later, and I continued east.
I kept hearing that there's nothing to see driving through Georgia, but I found the ride rich with life. The roads were ever so slightly curving with gentle hills, and the surrounding land was blanketed by velvety greenness. Closer to the coast, the scenery changed to tall pines and logging trucks. I was headed to Bluffton, SC, to meet my first hosts from ADV this trip, Mike and Mary!
From the very start, you could tell Mike and Mary have the sort of infectious enthusiasm that could fill a room. Fresh from a solid riding day, Mike greeted me at the door with a huge grin and made me feel right at home. A shower later I emerged to a dinner table laden with BBQ from the local place. We talked life, art (Mary's paintings decorated the walls), and rides, and Mike even pulled out some maps for the next leg of my journey. When we finally retired for the evening, I drew quietly in the comfort of their guest room bed, and had one of those beautiful, satisfying sleeps. The next morning, they took me to breakfast (more biscuits!) and had a brief driving tour of Bluffton – what a pleasant town by the water, totally under the radar. Don't move there. In fact, don't even tell anyone how nice it is.
It's a theme now: being sad to part ways so soon. I remind myself that in a way, saying goodbye is the nature of journey – if I was too afraid to say goodbye, I'd never go anywhere.
Drove by Savannah, I've always been curious about what their art school looks like. Also, I've been on the hunt for Canson's 180 degree sketchbook, ever since seeing Brian's in Atlanta. It would be a perfect travel sketchbook! Alas, no dice, will try the next Blick's, and have some lunch at Tybee Island in the meantime.
Entering Florida, the state I would spend 9 days riding through. Jacksonville was not making a good impression, but had some pretty killer graffiti artists.
St. Augustine was my first stop, and my first time staying in a hostel. I loved it – the communal area, access to kitchen and fridge (yay, frying my own eggs for breakfast, and boiling the rest for the road), for under $25/night. I passed the evening chatting a guy down from Alaska for a Christian rock group and a Russian studying English, while drawing and tapping away at my iPad in the cool breeze of the air conditioning. Why can't we have more hostels in America? Are we so individualistic that everyone must have their own rooms, bathrooms, and kitchenettes?
While outside the distillery, I happened to be looking at the free guide map I picked up from the hostel. A man with a camera approached me, "What are you looking for? I can probably point it out, I drew the map." So I met artist Henry E. Hird, the designer and illustrator of the local map and guidebook, among other work. After the distillery tour, he offered to take me to lunch at Acalzar Cafe, where he was friends with the owner and exchanged meals for advertising design. The cafe operates in the deep end of what was formerly the world's largest indoor swimming pool, in the old Alcazar Hotel, now the Lightner Museum building. I never would have guessed, but it's a quiet, hidden gem amidst some of the more garish touristy activities in St. Augustine.
I really liked St. Augustine, in spite of some of the tackier pirate-themed everythings and slow trolleys. It seemed like a popular destination for Europeans (maybe just that time of year?), I heard several different languages. I enjoyed the sense of history, the walkability, and the hostel. I think it might be the last place on the ocean side of Florida I truly enjoyed. As if the skies were forshadowing the journey ahead, storm clouds began to gather. I did a quick scoot-by of the fort and lighthouse (both asking for money, both overrun with children, a known Steph-deterrent) and pressed on to my overnight destination, Melbourne.
The constant heat and humidity was beginning to set in, I was glad for a cheap, air-conditioned overnight Airbnb in Melbourne. Attempts to ride the beautiful A1A were short-lived, due to high winds from the sea and intermittent rain – after about 15 miles, I was just too beat up. Daytona and surrounding beaches seemed like a long stretch of strip mall, clotted with people with whom I couldn't find things in common. Maybe it was the weather. I decided to abandon the coast and scoot by Lake Okeechobee. On the long straight rides, I dreamed of mesh gear, finding an address to ship it, and where I could store my current gear on the scoot…
There were actually a number of nice looking campsites around the lake, and a raised road with a pleasant view.
Alas, I turned back to take a 'normal' road. Still, the main road was flanked by lines of tall palms, which was pretty cool.
On the ride to Miami, I hit buzzing swarms of what I first thought were locusts (apocalypse-style, you know, to match the everpresent stormy skies). I dodged best I could, but still picked up a passenger.
My local host recommended changing my original plan of camping on Key Largo ("It's the gateway to the Keys, everybody camps there.") in favor of Bahia Honda ("Absolutely beautiful, I take my daughter often."). In the luxury of her wifi, I fell asleep to the Top Gear episode where they drive through Florida, and set off bright(-ish) and early the next (rainy) day.
Apparently, I was lucky to get this spot, since typically sites are booked full weeks in advance. Thanks, rain, for making other campers bail early.
The radar revealed a break in the harsher of the weather, so I donned my gear and hit the bridges. Ironically, the rain made for cooler temperatures, but in the humidity I was sweating so much I was probably soaking from the inside out.
I love those bridges though. Many of them were so long and low, it felt like you were riding directly on the ocean. Tingles went down my back, and it wasn't rain or sweat.
As if on cue, a veritable torrent of water began to fall from the sky. I sought refuge in a cafe, and then Yelp turned up this sweet little spot: The Porch.
Key West is not really like the rest of Florida so far as I knew it, the insular quality reminded me of New England's Provincetown (another great stormy ride, but that's a different story). When the rain let up, I browsed some bikini shops and walked around town, listening to bad karaoke of Jimmy Buffett spill into the streets and the drunken banter of college-aged vacationers. I had this feeling like spending time here would vanish huge chunks of money, in exchange for becoming incapable of riding back to my campsite before dark. So, I took advantage of one of Key West's novelties: a margarita in a to-go cup!
Actually, I kept the helmet on because I don't have a hat, and the margarita went into my on-scoot thermos. I also packed a frozen key lime pie, the plan being it would be thawed but still cold when I reached my campsite.
End of Leg 2, scooted to the southernmost point of the continental U.S.!