Penland with the Gratz family, Asheville, and I'm Running Away to Join the Circus, May 20-23, 2014.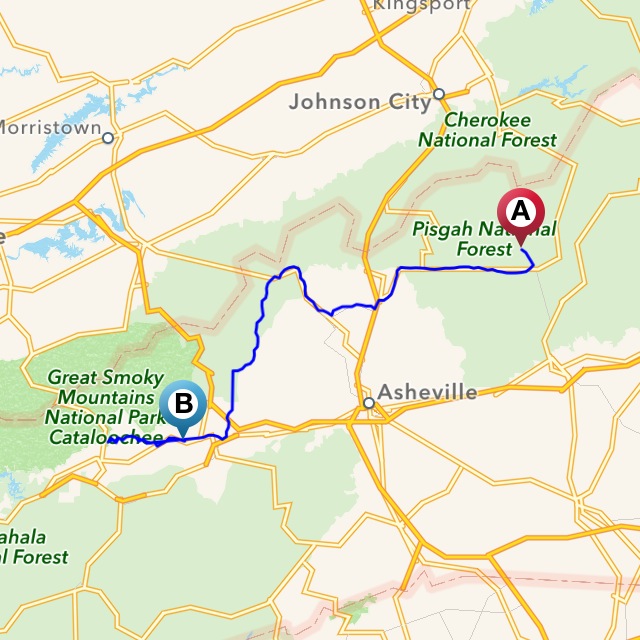 In this issue, our heroine lands herself in a minor case of urban shock after a weeklong immersion in the mountain life. Also, FIRE. And gypsies. In a way.

After hosing off in the driveway of the Gratz family (just kidding, they let me use a real shower, and even real laundry, both much needed), I was feeling much restored. Alan is an author of YA novels and more, and Wendi a professional crafter. They designed and built their amazing adventure home in the southern wilds, which is a wonderful island of creativity and personality. More on that later though, because that evening they made a fire and we all quietly rested, puttering about our own businesses and socializing comfortably, until I finally caved to the glorious embrace of the second floor futon.
In the morning, I woke up to this:
Now that everyone is fed, back to the adventure house. How awesome are these garage doors (there's a second set on the other side of the right corner) to the kitchen and livingroom? My mind was filled with visions of scooters and motorcycles, living in harmony by the sofa. Not to mention, the Gratz home was brimming with figurines, games, artwork, and books – all sorts of things that feed the imagination. An entire wall of the second floor in their open floor plan was dedicated to their book collection, away from the sun, with a narrow landing patch of floor, accessible only by fold-down attic-style ladder, or flight (maybe trampoline, but that's as of yet untested).
I was feeling like an easy day, so Wendi suggested an afternoon jaunt into the Penland School of Crafts. A pleasant scoot on deserted narrow twisty roads later, I wandered around campus.
Many of the Penland students end up staying in the area after completing programs, because land is affordable and well, just darn beautiful. This means the immediate area has a very active community of craftspeople, and is absolutely dotted with artist studios. This is especially true for arts that require a community to support, such as glass blowing or ceramics. Wednesday night was a 'firing day' for Alan and Wendi's friend, Courtney, and I tagged along.
Back at the homefront, I can hear coyotes, and bunnies taunt Augie, the dog. They also keep chickens, grow many of their own vegetables, and have a small orchard in the works. Did I mention Wendi has whole shelves dedicated to produce she pickled or jarred herself?
Reluctantly, I needed to say goodbye to my temporary adoptive family. I love the life they've built for themselves here, and the creative community hidden in the lush rolling hills of Penland. So many things in this area have been touched with human hands in a beautiful way; molded with thought and care into the forms of unique homes, studios, and a million little details tucked into the green hills, if you just look. I think the Alan and Wendi showed me the best parts of Penland. They also had great pointers for Asheville. I must come back, it's a weird city, in the way I like'em weird.
As if to give a message, within and hour of riding out the skies darkened, wind picked up, and drops began to fall. I've ridden through thunderstorms before and was going to make a go of it (they're brief here) but this storm… I saw the edge approaching like a wall, and when it hit, visibility instantly dropped to just a few feet. The nearest awning was an auto parts store. I went to find someone and let them know I was there, and everyone inside sported overalls and trucker hats. A man opened his mouth and said something, but I swear I just heard a banjo.
"Come again?"
I can't reproduce the speech pattern, but I gathered he said, "Don't want to be stuck in this on one of those."
Just as soon as it came, about an hour later it passed. I rolled out under blue skies on wet pavement.
This was a fun ride! Not crazy challenging, but enough to make you pay attention, and it goes past beautiful creeks and farms.
I had an ambitious 300 mile day planned to Atlanta, including a stop by the Wheels Through Time Museum, in Maggie Valley. It's not to be missed! It's impossible to see everything in a day, or probably even a week. The truly remarkable part is that all the bikes run. Dale, the magical force behind the operation, can be seen throughout the day on various vintage bikes, giving rides around the lawn to people (and pets?).
For Memorial Day weekend, WTT was hosting the American Motor Drome Company. The Wall of Death, 'America's original extreme motorcycle thrillshow', is the predecessor of much modern stunt riding. In an oversize wooden barrel, daredevils ride in circles on the surface perpendicular to the ground, performing stunts on appropriately vintage motorcycles. It's loud, terrifying, and heaps of fun. For 'vintage American entertainment' it sure doesn't get old. I guess everybody enjoys watching the pros risk life and limb.
After wandering around the museum and dawdling, it was starting to look like I'd roll into Atlanta past dark. A bit of internal monolgue back and forth later, I figured I'd ride the Cherohala Skyway, camp at one of the motorcycle campgrounds near Tellico Plains, and complete the ride to Atlanta for belt and rollers service Saturday morning. However, when I went to say my bye and thanks-for-being-awesome to Dale, he offered, "Life is about experiences. Why drive and pay for a campground? Just camp here, next to Charley. Or Billy, he'll watch out for you like a little sister."
How could I possibly refuse? (Hint: grab your tent now.)
I took a leisurely ride to the end of the Parkway in the Cherokee reservation and back (tunnels are fun and kind of freak me out!), and spent the rest of the evening tooling around with the Motor Drome company and associated inmates.
After grabbing some dinner together, a few of us took a quick joyride on the Parkway for one spectacular sunset. Words and pictures can't do it justice.
It's a good thing I was up before everyone, or I'm not sure I would have been able to leave (moonshine don't slow me down none, pah!). If I didn't go, I surely would have spent the whole weekend there with the Motor Drome family…which would have been inarguably awesome. But 5am came around, and the Roar woke me and called me south, to my old hometown. So for now, I washed my face and hands in the creek, and answered.
I feel so lucky this week, to have been welcomed into two different families. I can't thank them enough for their generosity and openness to sharing a bit of their lives with me. To say it's unforgettable is an understatement.